Discovering 6 Nifty New Hideaways on the Huge Harmony of the Seas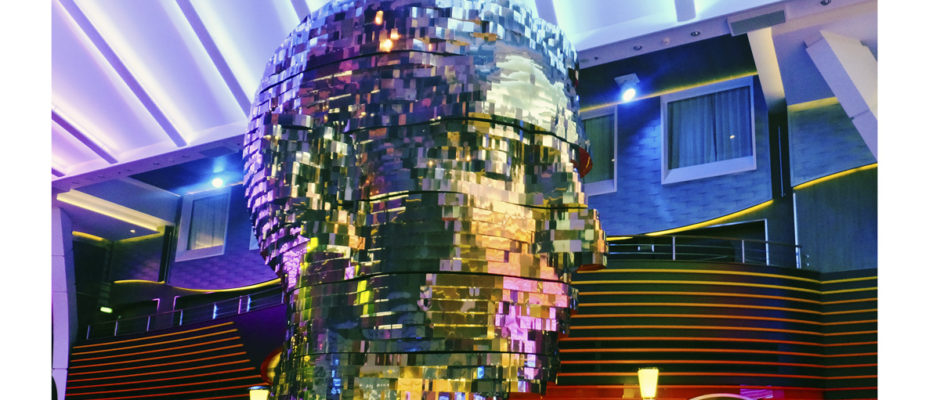 The Attic is in the cellar. The Solarium is actually a good place to find shade. Royal Caribbean's new Harmony of the Seas is full of surprises.
But despite its vast size and the fact there are 5,400 fellow guests on board, you can find plenty of quiet places to relax. You just have to look beyond the ordinary.
Royal Caribbean's newest, like its fleet-mate Oasis of the Seas, does an excellent job of crowd control by breaking the ship into neighborhoods, like you'd find in any large city. There's a bustling Boardwalk with a carousel and fast food, Central Park for strolling and dining, the Royal Promenade for shopping and dining, Entertainment Place for production shows, music and comedy, and the Pool and Sports Zone for play and sunning.
Here are some tucked away and less obvious places that are more likely to be oases of calm on the newest Oasis-class ship.
1. Café Promenade
Once they settle in on a ship, most guests tend to gravitate to their favorite spots. Meanwhile, some less obvious places don't get discovered. Just as in  your own neighborhood, there may be places you've walked by for ages and never explored. It's like that on Harmony of the Seas.
Early in the cruise, most people head for breakfast or lunch to the vast Windjammer Marketplace buffets on Deck 16, not realizing there are other places that are less crowded.
The Café Promenade –in a corner of the Royal Promenade–is a perfect and generally uncrowded alternative for coffee, snacks and sandwiches. The croissant sandwiches may be small, but they're packed with meat and garnishes.
Tables inside and on the promenade provide comfortable seating and excellent wi-fi signals.
2. On-Air Club
Also on the Promenade on Deck 5, this is billed as the largest sports bar in Royal Caribbean's fleet. It can actually be a relatively quiet retreat by day and a good place for chatting, reading or catching up with the sports scores.
In the evening, the entertainment turns to audience-participation game shows and music trivia contests. Later, it gets raunchier as it turns into the ship's karaoke bar, packed with guests anxious to mangle pop songs on a small stage surrounded by the room's many television screens.
3. The Attic
Talk about a mis-named location. The Attic is actually in the lowest passenger level of this 16-deck ship. There are signs in the hallway of the Royal Promenade but it isn't all that clear where the entrance actually is and after the show has started you have to open a fire door to get in.
Once inside, it's a place made for stand-up comedy. The vast room with a warehouse feel is decorated with eclectic junk from bygone eras and tongue in cheek graffiti on the walls. My favorite is: "to err is human-to blame someone else shows management potential."
In the evening, the place gets raucous and its tables and big marble bar are packed, so reservations are required. The shows are rated for adults and there is blue language even in the early show, but it gets bluer in the late shows, especially when the audience has had alcoholic encouragement from the bar.  Some nights the Attic also becomes a large late-night dance club with live music.
4. The Solarium Bistro
Despite its name, the adults-only Solarium features plenty of places to get out of the sun. It's calm and comfortable, and underutilized by most passengers. Its Bistro restaurant is a  great alternative for hot or cold meals at  breakfast and lunch, featuring many of the same specials you'll find in the buffets of Windjammer Marketplace in a more sophisticated setting.
At breakfast, you can get fried or scrambled eggs, bacon, sausage, fruit and toast (but bafflingly, no orange juice). Cold items, such as muesli or cereal, also are served. Lunch features a buffet of salads, sandwiches and crepes along with entrees.
At dinner, in addition to a Greek-themed buffet, you can order from a complimentary menu that includes items such as chicken kebabs, steak or grilled shrimp. Lamb chops ($10) and lobster tail ($15) are also available at an extra cost.
5. Vintages
This is a place where you can pour your own. In Central Park on Deck 8, it's a good place to stop on the way to dinner in the restaurants in Central Park. But it's also a good spot to settle in for a quiet conversation or to read a book over a glass of wine by day. An incredible piece of artwork is its wall-sized mural of a woman made entirely of wine corks.
In the center is a long bar with a wide selection of wines by the glass or bottle. But a unique feature is a wall of serve yourself dispensers automated dispensers that tap out 4 6 or 8 ounce glasses and have a system that fills the void in the bottle with argon gas to keep the remaining wine from oxidizing.
The room surrounding the bar features a large, tall table where wine tastings are offered several times a cruise, for a fee, but there are also smaller, more intimate tables.
Unlike on the two other Oasis class ships,the Vintages doesn't serve its own tapas-style snacks. But you can have small plates of creations like crab and avocado bruschetta or the pecorino and chili jam delivered from Jamie's Italian restaurant next door. The pricing is a la carte, but less than the prices of full plates at Jamie's.
6. Diamond Club for Crown and Anchor guests
Apart from the perks and upgrades, this is an added reason to become a Royal Caribbean regular. This exclusive club on Deck 4 is open only to upper-tier members of Royal Caribbean's loyalty club, the Crown and Anchor Society. Diamond Club members (a program of benefits and deals for guests who have sailed 80 days or more on Royal Caribbean ships) get free drinks in the evening as well as concierge service and a daily continental breakfast.
The location of the lounge in the Entertainment District isn't obvious, with an entrance in a corridor where people stand in line waiting for shows at Studio B. But once inside, it's a big quiet room where you have your choice of sofas and tables for conversation or web surfing. It's open to Diamond, Diamond Plus and Pinnacle Club members.
That's only a sample of the hideaways to discover on the world's biggest ship. After, or during, a hard day's adventuring, there's bound to be a place that suits your mood.