Divers from Star Flyer Drop In on a Fishy Orgy in Costa Rica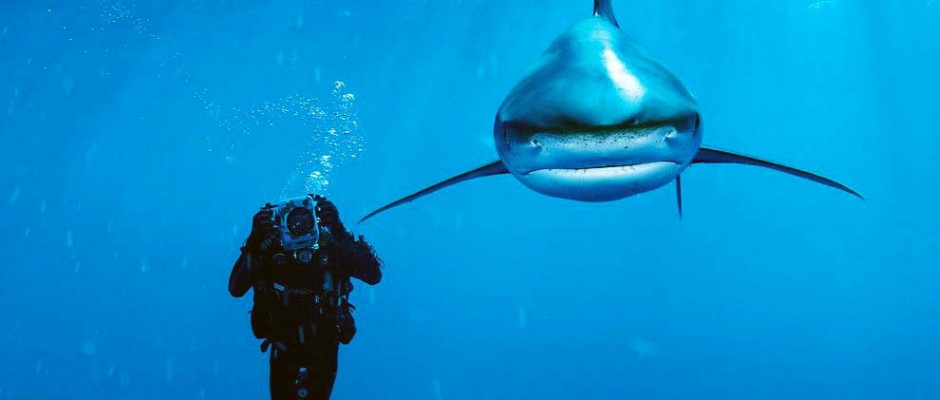 It's party time along the coast of Costa Rica.
Beneath the waves, the action is as hot and heavy as it can get at Spring Break time above water on the beaches of Cancun or Fort Lauderdale.
But here we're 40 feet under water and my heavy breathing is done from a tank of air on my back while I'm scuba diving from the sailing ship Star Flyer.
Slender bright blue fish, delicate angel fish and swarms of spiny box-shaped fish with big eyes and stubby tails were all filling the water so thickly that at some times they blocked out the sun. The dudes and dudettes of the finny world are showing their stuff, clustering together, and getting cozy on the sea floor equivalents of beach blankets.
I was fortunate enough to be able to join at least as an observer on a scuba dive led by the sports team on Star Clippers' sailing ship Star Flyer.
And it was fortuitous in more than one way, because diving hadn't been on my original planning for this cruise.
Doing an on-line search as I planned this trip, I hadn't been able to find any reference to diving on this cruise. I thought that was strange because on previous Star Clippers trips I'd found their dive staffs and stock of scuba equipment top notch. I'd even gotten my training that led to a coveted advanced PADI scuba diving certification from the staff of sister ship Royal Clipper a few years back.
Checking in with Star Clippers they told me they'd done away with a scuba diving program but the sports team could arrange dives through local shops.
Going back to my on-line search I found only one dive operation among the six stops we were making. So I decided it didn't make sense to bring any of my own dive gear. I probably wouldn't have brought my own gear even if there was diving available because wet suits, flippers and scuba regulators are heavy and the airline I was flying would charge $40 for an extra checked bag.
So I was pleasantly surprised to find when I arrived at the ship that a new crew member had just joined the sport team— Rhonda Shippey, an energetic gal from landlocked Alberta is a certified dive guide.
Not only would there be diving but the ship had a lot of nearly new dive equipment on board that I could use during the cruise. Those who aren't certified to plunge to the depths with scuba but just want to view the underwater world from the surface benefit as well. They can check out masks and snorkels and fins.
We ended up getting diving in on three of our port stops. What Costa Rica's coast doesn't have the huge reefs that I've gotten used to from scuba diving in the Caribbean, Hawaii and the Pacific. The features on the sea floors are crags and spires created by volcanic action or earthquakes and while spectacular they're nowhere near as colorful as a coral reef. What makes up for it is the remarkable profusion of vast schools of fish in rainbows of colors.
And there were huge turtles and sting rays and a fair number of sharks as well. I have to keep explaining to my wife Lisa who isn't a diver that scuba divers aren't considered lunch here. The white tipped sharks mind their own business and stay far from divers.
Not so some of the other amorous fish I met on the dives.
My cruise in mid-January seemed to be the fish equivalent of Spring Break along the tropical beaches. It was mating season for some of the local finny populations and I've never in my life seen such clusters of species that normally you only see in singles or in pairs.
The best dive of the cruise was when the sleek sailing ship was anchored off Playa Flamingo, at north corner of Costa Rica. To get to the dive sites required getting all the equipment including heavy tanks and bulky equipment into a Zodiac– an inflatable boat about the size of a large kiddie pool– and taking a 20 minute trip to the off-shore rocks where the fish party was in full swing.
Jumping in it was clear something important was going on. The surface was slimy with gooey strings that turned out to be egg sacs of spawning porcupine fish.
The water was filled with gelatinous strings of which turned out to be fish eggs in places so thick you couldn't see more than a foot in front of your face. Fortunately once at the bottom, the water was much clearer and we were treated to the mating rituals of  thousands of porcupine fish.
In my years of scuba diving, I've always thought puffer fish were loners who tend to hide out in the daytime. When you see one and follow too closely these fish can blow up like spiny balloons, putting on a spiky show to scare away predators.
Not here and not now. The puffers were cuddly little limp blobs. Thousands of them were packed together in crevices in the rocks: black ones, brown ones and yellow ones all nuzzling and not the least bit bothered by the big bulky divers swimming around them.
After they make whoopee, the eggs that get  released float around near the surface for about four days until they hatch. Three weeks later, they're already well on their way to be juveniles who can swim out into open water.
It was a rare sight and I'm extremely grateful I had the chance to see it.
A bit of a trick when diving from a Zodiac is getting back out of the water. The method is to put all your gear on the craft first and then grab the edge and pull yourself in with the help of a crew member who stays on board while the 45 minute dive happens. The crew really earns the $70 dive that the experience costs.
Tomorrow is another day and another different dive awaits.