Don't Panic! Robots Aren't Ready to Take Over Cruise Ships–Yet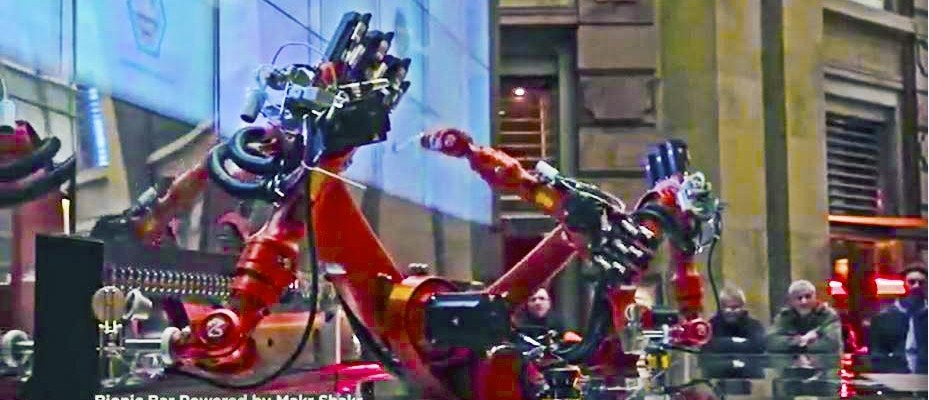 Who would you rather have as your bartender on a cruise to Mars aboard Star Trek's Enterprise: Guinan (as played by Whoopi Goldberg) or Mr. Data?
There's no contest in my mind that you'd choose the  wise-cracking mixologist who knows you want an extra olive and a twist of sympathy ahead of a servo-activated beverage manipulator who's convinced there's only one correct way to mix a martini and insists "Your cocktail order is not logical."
Still, Royal Caribbean Cruise Line's upcoming floating world, the 4,900-guest Quantum of the Seas, features a Bionic Bar, tended by a team of industrial robots. (Do we get to nickname them Screwdriver and Rusty Nail)?
Customers queue up to get to a keypad to order the big arms that look for all the world like welding machines to dispense drinks just like they're programmed to do.

It's a gimmick of course, another way Royal Caribbean is adding futuristic high-tech experiences to its new ultra-large ships.
Quantum of the Seas also has an automated show lounge, Two70 , where a sextet of Roboscreens hanging from the ceiling stage impromptu performances. They'll soar over the audience carrying 100-inch LED screens that will unite to create a huge wall of light that displays computer-generated spectaculars.
Cute, but rest assured it's not the future of cruising as we know it. In fact, even Quantum and sister ship Anthem of the Seas will have a multitude of other clubs and lounges staffed by actual humans as well as live entertainment including full-scale Broadway shows.
A great delight of cruising is that ships offer more personal service that you'll typically find on land. There are also more chances to turn off technology. At sea, you can escape from the tyranny of the GPS navigator in the car barking orders about the best exit to take and cell phones that regularly remind you about your upcoming dental checkup.
Bars are natural gathering places and the mechanical workaday world we left behind is the last thing we want to be reminded of when we nestle up for a nightcap. A skilled bartender learns your name and your favorite drink and can even suggest a concoction you might not know exists to lift your spirits.
Carnival Cruises is outfitting their ships with Alchemy Bars, which are like old-fashioned pharmacies where white-coated mixologists strike up conversations and concoct drinks formulated to match your mood or the time of day. The staff is big on banter and showmanship that includes flames.
Celebrity Cruises' ships have installed ice bars staffed by human bartenders who are showmen who really get into their work. They juggle bottles, play catch with cocktail shakers and if there are a lot of drinks on order, are up to shaking and dispensing half a dozen martinis at once while standing at the top of a ladder.
On a recent cruise aboard tradition-steeped Holland America Line's Niieuw Amsterdam, I found myself gravitating along with many other guests to The Piano Bar where you can sing along with a comedian pianist who plays requests and tells jokes while the bar staff sings along. On an HAL cruise, you're not likely  to find a computer named Hal singing Daisy, Daisy any time soon.
The bartenders who make cruises happen are the ones with personalities rather than programs. Give me the old Love Boat's sunny Isaac Washington (played by Ted Lange) any day.
But I'll still be fascinated to see Royal Caribbean's Bionic Bar's bots in action.
Now that Boeing and SpaceX are working on a new U.S. space transporter that could carry passengers on flights to Mars, it may even be a future trend.
Discussing Quantum's new features in a recent interview, Royal Caribbean chairman Richard Fain was asked whether a Bionic Bartender could counsel people who complain, "My wife doesn't understand me."
"We could probably add that," Fain said, "and it probably would be as reliable as your current bartender."
Read more: Carnival's Mixology Wizard Teaches a Course in Bar Alchemy