Holland America Charts a Lyrical Course with Stylish Koningsdam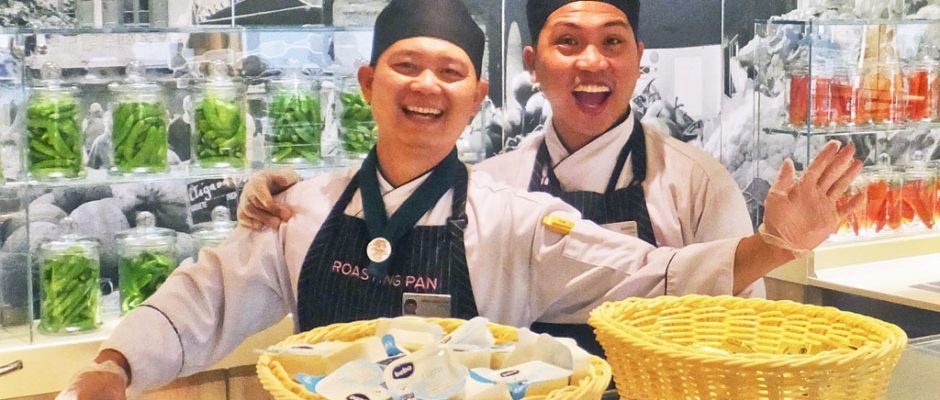 A sensuous chrome sculpture that evokes the silver strings of an ethereal harp swoops around three-decks of the  atrium. Up above, at the Crow's Nest, a sailing ship whose hull is a glorious double bass sprouts full rigging and square sails.
Sailing and music blend harmoniously in every space of  Holland America Line's new Koningsdam. From the moment you step on board, it's clear that this is not just another …Dam ship.  Beautifully rhythmic architectural curves and whimsically themed artworks everywhere celebrate music and musical instruments and its happy crew and talented entertainers make you feel like dancing.
An entire district is devoted to performances of pop music, blues and jazz and there's a theater with a wrap-around video walls unlike anything afloat that envelops you in the show.
We're on board to have fun and indulge and there are plenty of opportunities on this 2,650 passenger ship–the largest Holland America has ever built. It's named in honor of King Willem Alexander, the first king of the Netherlands in a century.
Since there's so much new to see, we'll be looking at entertainment here and explore dining in a separate story. 
Music Walk
It pays to start early in the evening if you want to experience the full range of the innovative complex of musical stages on Deck 2. Show times are staggered, so guests can experience a range of entertainment options, and the variety is unlike anything else at sea.
B.B. King's Blues Club
As huge as the dance floor is, it gets remarkably packed as the red-hot B.B. King All Stars riff on blues and rock  classics nightly in sets that are short, but intense.
Clubs in a new partnership with the blues legend are showing up on other Holland America ships, but on the Koningsdam  B.B. King's completely takes over what's also known as the Queen's Lounge, a two-tiered showroom. Fluted wood trim in the walls of the scalloped balconies is reminiscent of organ pipes and the rich wood trims are polished to the sheen of a fine violin.
By day, the lounge doubles as a game show room and an elegant venue for afternoon tea.
Lincoln Center Stage
A concert hall for classical music performances isn't likely to be the first thing you'd imagine becoming a must-see venue on a cruise ship, let alone one presenting  programs arranged  in partnership with New York's premier concert institution. But it's often standing-room only in concerts before or after dinner at the Lincoln Centre Stage.
The performers and the programs are auditioned and hired by Lincoln Center and the setting has the proper ambience, with an acoustically tuned wall made of hundreds of individual pieces of hardwood. A Steinway concert grand piano takes pride of place at center stage and each member of the conservatory trained  classical quintet is a gifted soloist.
Many of the concert selections are chosen because they were inspirations for popular music hits or movie scores. But the performances are anything but concert lite. One pre-dinner show featured a full four-movement concerto by  Antonin Dvorak,  with an introduction by the cellist of his insights into the music and the joys of playing it.
A bar in the rear  of the concert area maintains a classic Holland America tradition. It's the Mariner's Bar, which is a nautically themed feature on all Holland America ships. On Koningsdam, it's been transformed to an elegant wine bar.
Billboard Onboard
Just across the hall from Lincoln Center, the centerpieces are also pianos: electronic ones called Slam Grands with ring-side seats around them. It's a duel nightly and the theme is Top Ten music.
Two lively and talented musicians take requests into the late hours for songs that made the Billboard charts over the past half century. That makes for a remarkable collection of possibilities, and they make it fun with banter and barbs about the songs.
This music club is the ship's most laid back space, with swivel chairs, floor lamps, velvet banquettes and a serve-yourself hot table with bar snacks to accompany cocktails before dinner. It's also the place to come and sample a wide range of draft beers and exotic bar concoctions, with names like Blaze of Glory, The Time of My Life, and I Love Rock and Roll.
The World Stage
It's got the feel of a shape-shifting space ship. With its soaring LED screens arrayed in 270-degree panorama around the walls and a remarkable surround sound system, this rotunda can seem to expand infinitely or become up close and personal.
The stage and the video walls give unique dimensionality to live performances. One of the shows, featuring number one hits from the Billboard charts, is truly non-stop singing and dancing. A show-stopping moment is a stunning tribute number that features a video version of Whitney Houston seemingly singing along with the cast's own diva.
There are four other shows on offer on other evenings, including a ballet-themed one expressly choreographed for Koningsdam. What they all have in common is the sheer energy the singers and dancers generate.
The screens also seem to come alive in symphonic video presentations such as Frozen Planet, part of Holland America's new partnership with BBC Earth, featuring awe-inspiring scenes of the Arctic and Antarctic projected on the wrap-around walls, accompanied by an original score played live by a 10-piece orchestra.
And after the shows, or between them, there's never a shortage of music in other lounges and cafes. This Dam ship is an inspiration to sing and dance.