Hong Kong Hand Tailoring: Made Just for You and it Shows in Every Detail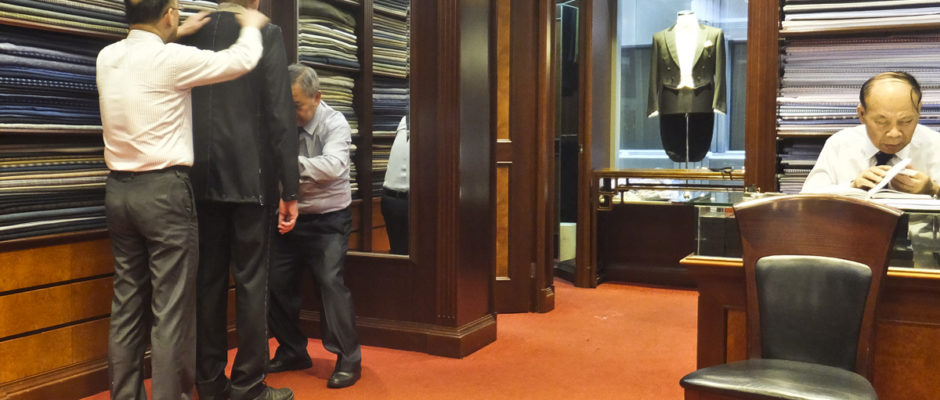 A fine quality suit may be less than a must these days with casual dress becoming more common in offices. But when it comes to aiming for the C-suite, or impressing at a big event, nothing puts you a cut above like a perfectly fitted suit or jacket.
Prices of good tailoring have risen faster than the stock market, but I've found that the savings in having a suit custom made in Hong Kong rather than buying a designer suit off the rack in New York or Toronto can cover a few days of fun in Hong Kong before or after an Asian cruise. And the suit itself is couture. Nobody in the room will be better dressed than you are.
Hong Kong is still the home of the world's finest bespoke tailoring. But it does pay to know something about what you're buying. As always, the rule of thumb is that you get what you pay for. The budget tailors who sell by mail order in North America usually merely take factory-cut and machine sewn clothes and alter them to a few specifications. This is not custom work, but only alterations to make it 'sort of' fit.
Budget tailors are said to cut corners on everything, even thread. Parts are often glued rather than stitched. Interfacings can be inadequate or even non-existent. Since fabric is more expensive than labor in Asia, clothes that look wonderful in the shop might be made with second rate fabric that starts to wear thin or pill after only a few wearings. I know; I've gone that route before.
Another cause of dissatisfaction in an instant tailoring job is that people don't give even the most sincere tailor enough time to do a proper job. Three days with a couple of fittings is probably the minimum for complete satisfaction, so the best strategy is to place your order as soon as you arrive in Hong Kong and stay at least three days.  You can also do the initial fitting on your inbound flight from North America or Europe, and do the later fitting on your outbound leg after visiting the rest of Asia. The finished suit can be mailed to your home.
I've become a long-term client of one of Hong Kong's best known tailors, A Man Hing Cheong in the Mandarin Oriental Hotel. These are tailors who live their lives with fabric and workmanship and who have outfitted many of the best dressed and most demanding executives in the world. You will pay a premium price that's still reasonable by couture standards and you can be assured the workmanship and their British and Italian fabrics are the finest. Remember that the size of the shop has no bearing on the quality of the product, since all the sewing is done in workshops in mainland China and their Hong Kong city office is just for your fittings.
You can get precisely what you want, so be very specific. A good tailor has all the answers but he may wait for you to ask the questions. Is the suit for winter or summer? Is it for the boardroom or travelling? If there's a particular designer or cut you favor, it's a good idea to bring in a photo.
What details do you want? A separate pocket for your smart phone? Where? What color of lining? A monogram? Cuff buttons that really unbutton – a couture status symbol – come standard.
After measurements you will make an appointment to come back about two days later to be fitted with the rough-cut suit. Arriving in a casual polo shirt, I was expertly handed a fine dress shirt in exactly my size to wear under the suit while it was being fitted, lest the knitted polo fabric distort the fit.
Don't be put off by the alarming appearance of all the stitches and pins. This fitting is where the skilled eye of the tailor is vital. The hallmark of good tailoring job is in the subtle fit in the shoulders and the way the suit moves with you when worn.
A second visit is the final fitting, but the suit still looks as though it's patched together. At A Man, I had one senior tailor who handled all my fittings but as many as four other tailors were consulted to check on various details. The team here is obviously proud of its work. Oh yes, they do custom tailoring for women as well.
The final arbiter of the fit, of course, is the customer.  And once I tried on the finished product, I was sold. When a suit is fit for the idiosyncrasies of your body you don't feel it at all. The jacket seems to float on your shoulders and slacks hang beautifully.
The difference between a cheap jacket and a fine hand-tailored one becomes most apparent when you wear it. In a good jacket, the interfacing is all hand basted so it drapes to your body rather than staying stiff. The shoulders are shaped with multiple layers of fiber rather than foam and they look more natural. The lining material will be comfortable and long-lasting.
The suit is so carefully hand finished and the stitches in the lapels so delicate they are nearly invisible. But while good work may look delicate, the quality British or Italian fabrics and the careful stitching used will wear forever.
As I paid my balance, I glanced at the names on packages behind the counter waiting to be shipped out. I recognized a couple of American and Japanese CEOs, an Arab leader, and a Canadian banker.
At $1,500 to $2,000 a custom-sewn Hong Kong suit may not sound all that inexpensive. But for the craftsmanship involved it's among life's great bargains. A comparable custom made suit where I live in Toronto will cost at least $3,000, as will top designers like Zegna off the rack with no custom fitting.
And here's the kicker: I think mine looks far better.