How Cruising with Zombies, Rockers and Jokers Become a Phenomenon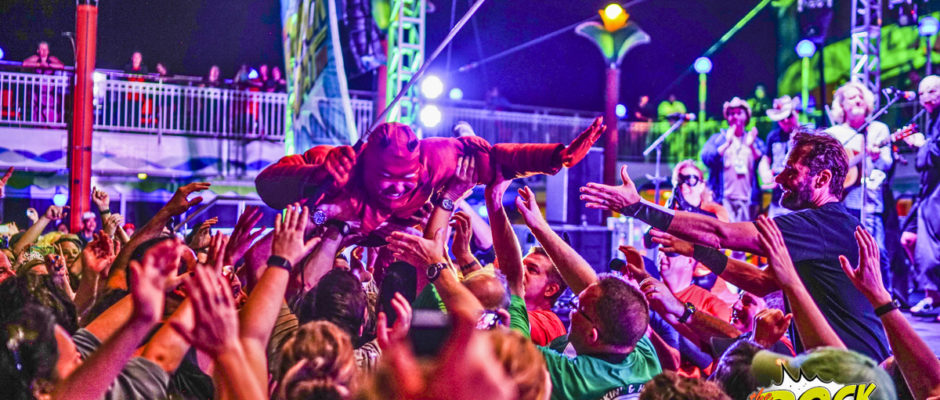 Hey, your bloody face looks ultra-realistic. Thanks, I love the way that tie looks like it's strangling you.
Do you dream of cruising with thousands of zombies? It's actually a thing, but you've got to act fast because  the 2018 Walker Stalker cruise is destined to be sold out.
You're likely to find the same is true if you want to join boatloads of hard rockers or practical jokers, country outlaws or classic movie fans.
Theme cruises have become such phenomena that people who disembark from one are ready to sign up for another the following year, Alec Wooden , the marketing and social media director of Sixthman Productions told Wallace Immen of The Cruisington Times.
Now in its 18th year, the Atlanta-based company is celebrating having organized 104 seagoing festivals, hosting over 230,000 guests for a total of almost a million vacation days at sea. Wooden describes how rocking and role playing at sea has become an introduction to cruising for a generation:
The Cruisington Times asks:
It seems a phenomenon that you can not only get 2,500 fans to sign up for a cruise but get them to come back again year after year.
Alec Wooden replies:
It certainly is a crazy idea that turned into a crazy industry. It all started when the event manager for the band Sister Hazel, who became the founder of our company, had a chance meeting with a travel agent on a flight. She said why not take them on a cruise?
That first year, it was just a group of about 300 Sister Hazel fans on a ship that wasn't chartered, but by adding more bands we found we could fill an entire 2,500-passenger ship on a full charter. We can curate and control everything on board to make it a special experience for fans.
Headliners who attract 2,500 or more cruisers on a charter include KISS, Kid Rock, John Mayer, Pitbull, Paramore, Lyle Lovett, the Barenaked Ladies and Sister Hazel. Brand partners include Turner Classic Movies, SiriusXM's Outlaw Country and TV shows like The Walking Dead and Practical Jokers.
And the cruises sell out fast. We sold out next year's The Rock Boat nine months in advance of the cruise.
Gene Simmons describes what it's like on a KISS cruise.
You do most of your cruises on Norwegian Pearl and Norwegian Jade; have the ships been tweaked to make it easier to organize concerts?
We weren't always on one line, but Norwegian Cruise Line purchased us in 2012 and we are now a subsidiary. One of the reasons we're on these two ships is we've done modifications to make our lives easier on board, like a big permanent stage on the pool deck and being able to accommodate all the guests on deck at the same time.
With the two ships as our second homes, it helped us find a groove. Our repeat guests and alumni know exactly what to expect. By adding other bands to the lineups, it rounds out the experience and we now can do four or five day festival-style cruises. Our home ports of call include Miami, New Orleans and Tampa and destinations include the Virgin Islands, Belize, Honduras, Mexico and the Bahamas.
Do you take bookings for the next year on the ship?
We generally don't actually sell the next one on board, because we may not know the exact ports, dates and availability of the bands a year advance.
We do have to commit to the charter far in advance, but the snag is often that the talent don't know about their commitments for albums, tours. It's rare we can book talent a year in advance. We try to firm up the details as quickly as possible, though. We're able to give out details now for cruises next spring.
We send an e-mail following up the week after the cruise that says "you had a great time this year, would you like to go next year?" They can put a small deposit down and most decide to book when it comes time to commit.
Sometimes by the time the lineup is announced you've already sold out. What proportion of the passengers are repeat guests and how far in advance do they book?
It's not an exact science, but we have developed an incredible repeat audience. We're often able to sell out in pre-sale before a cruise ever gets to promotion. We've announced two this year– the Parahoy music festival and The Rock Boat— that never even made it to public sale. It was all just based on alumni and word of mouth.
Across all of our cruises, the average is something like 56 per cent alumni guests. The numbers go up as the cruises get more established. The Rock Boat has an average of 78 per cent returning guests. Another cruise, the Cayamo! music festival, had 90 per cent repeat guests this year.
But the interesting thing is that 26 per cent of our guests were new to cruising period when they took their first cruise with us. So there is an initial education factor as we bring on new guests into what cruising is all about. Once they get out there, they become part of the return guests.
Is there any change in the formats planned in the near future?
We're always looking for what's new and what's next, whether that's a band or group of bands or brand. We're always going to run our previous cruises as long as the audience wants them. We've had 11 Kid Rock Cruises and 18 The Rock Boat cruises.
The big trend at the moment is tie-ins to TV hits. There's no megaphone like a TV show that is a franchise and we can use its popularity to create a huge event on a ship. I went on the first Walker Stalker and realized how unique it is. The guests loved it and everyone gets into the dressing up and makeup. We're on year three and the guests are really engaged.
(The themed cruise, which features stars from the AMC television show The Walking Dead and the comic book series of the same name, encourages guests to dress in drop dead fashion. The cast and crew host meet-and-greet sessions and Q&A panels and even participate in activities like whisky tastings and belly flop contests during the voyage. The four-night sailing on Norwegian Pearl in January is a round-trip from New Orleans with a stop in Cozumel).
Practical Jokers is a comedy cruise based on the TV series, but we turn it into an ongoing experience. The TV cruises are as carefully curated as our music cruises, that means there are party bands and cover bands and events that are programmed to tie in to the show. It's not just the jokers doing gigs and walking around the ship, there's always music going on and they do podcasts live.
What's the formula for travel agents?
We have formed an in-house booking and guest services department, but we love working with travel agents.
Travel agents who book their clients on our events receive a 10 per cent commission of the net cabin fare payable upon the completion of the event. We are not a travel agency; we do not book hotels, flights or ground transportation. This is where travel agencies can offer a full trip package to clients, including the cruise, airfare, and ground transportation.
If an agent approaches us with a group that's certainly something we work with as well. Agents can book directly through the website or phoning our office. We handle all the reservations
And if you've still got your heart set on being a zombie at sea or sailing on one of the other sold-out cruises, there's always hope, Wooden said. Spaces do open up closer to the sailing, so hopeful fans can join a wait list