Koningsdam's Tasteful Dining Options Offer Flavors Fit for a King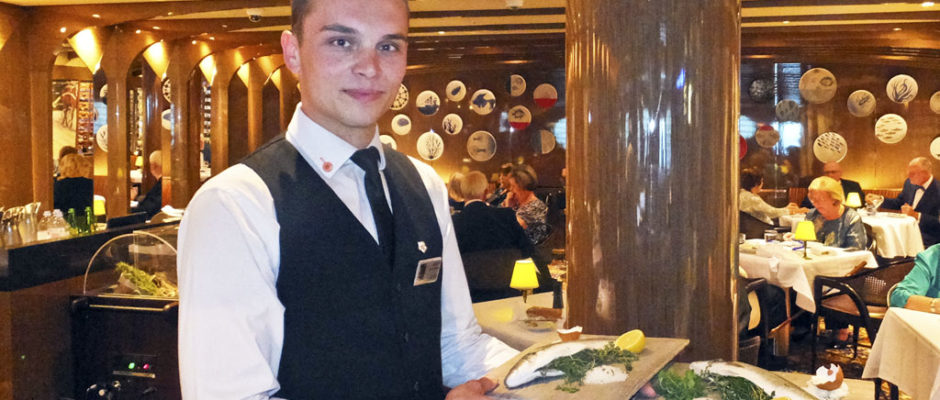 Each morning, at every port Koningsdam visited on our cruise around the Mediterranean, chefs went ashore to local markets to shop for fresh fish and vegetables.
Meanwhile, a gardener in the Culinary Arts Center tended a garden of fresh sprouts and herbs. And two florists on board kept busy arranging bouquets of fresh flowers flown in regularly from Holland.
It's such attention to freshness and detail that makes every meal on Koningsdam memorable. With only a week on board there were so many options on Holland America's largest ship yet that every evening offered a different dining experience.
The specialty restaurants do come at premium to the cruise fare, and that's a trend on cruises everywhere. But here, the extra fees bring premium foods and restaurants that are elegant and intimate. Here's a free taste to accompany our review of Koningsdam's Entertainment:
The Dining Room
Koningsdam's main dining room, included in the fare, features sea views to the sides and rear of the ship. gracefully curved arches in the walls and ceilings make the atmosphere elegant and break the large room on two levels into a number of small spaces accentuated by multi-colored blown-glass chandeliers. It feels much more intimate than its actual capacity of over 1,000 guests. A downside of the soaring architecture and solid surfaces is that the decibel level rises when the room is full, especially if you're seated near the center.
The menu is a little different than you may be used to at sea. Rather than separate appetizer and soup sections, all the pre-entrée choices are listed as starters and you can select as many as you wish.
Entrees feature chefs' suggestions from Holland America's Culinary Council, along with classic cruise favorites, vegetarian options, and regionally inspired dishes. The choices include Holland America's signature Indonesian rice table, although on the evening I had it, the spicing was left to the imagination. I found myself reaching for the salt shaker. The dessert menu, including Holland America's classic bread pudding certainly made up for it.
A center piece of the room is a two-story glass and copper wine tower holding 700 bottles, which could easily get consumed in the course of an evening. Guests can choose whether to arrange a pre-set seating and dining time for the complimentary dinners, or to select "As You Wish" and dine at any time they choose.
Lido Market and Canaletto
Instead of HAL's typical Lido restaurant buffets, Koningsdam features a marketplace-style series of serving stations. The offerings change  through the day and in the evening, but there are typically hand carved meats and fish at the Roasting Pan zone, sushi and exotic fare from India or China at Distant Lands, custom-built salads at Wild Harvest and "comfort classics" at the Homestead.
With a reservation and a $10 a guest fee, you can dine at Canaletto, a specialty area within the Lido Market, where the menu is Italian and fresh pasta or large plates of meat or fish are served in a style that encourages "Spartire," Italian for sharing.
Tamarind
I love the huge, colorful orchids that decorate each place setting of the Pan-Asian restaurant. It's an expansive area on Koningsdam, with a design and a menu that emphasizes nature's basic elements: water, wood, fire and earth.
The classic start is a smooth, and beautifully spiced Indonesian style laksa soup with tofu and quail eggs in a vermicelli with red curry coconut broth, Then I move on to some succulent Shanghai beef ribs over a cabbage salad. There are multiple choices for each of the elements on the menu and include barramundi in banana leaf for water or red curry coconut chicken for fire.
The incredibly large fortune cookie piped with chocolate offered as a desert choice  guarantees a lucky cruise ahead. There's a supplement of $20 per guest.
Pinnacle Grill
Are you hungry enough to order a 38-ounce prime rib eye steak? The President's Choice at the Pinnacle Grill is so specially raised and selected for the restaurant that it comes with a serial number.
Of course, it's designed to be shared around the table and there are lots more manageable portions of prime steak on the menu of sustainably raised beef from Washington State's Double R Ranch, as well as seafood and vegetarian options.
Holland America's signature steak house has grown on Koningsdam, both in physical size and the length of its menu. You'll find the familiar lobster bisque, crab cakes and Caesar salad to start but there are also double cut Kurobuta pork chops and roasted Jidori chicken with quinoa forbidden rice cake and Alaskan king crab legs. The supplement is $29 a guest.
On every voyage, one evening is also offered as "An Evening at Le Cirque," a taste of Sirio Maccioni's legendary New York restaurant. For that special meal, the supplement is $49 per guest.
The Culinary Arts Center
Holland America's fleet-wide Culinary Arts Center has been transformed into a dining venue on Koningsdam. In addition to cooking demos, classes and celebrity chef appearances, guests can book for a dinner prepared on the spot by chefs in the show kitchen. In a partnership with herb specialist Koppert Cress, Culinary Arts Center chefs grow ingredients onboard the ship and incorporate them into various recipes.
The menus are dictated by what's fresh and in season and what the chef (from Vancouver) decides he and his crew can make in the demonstration kitchen. On the evening I dined, it was a salad of home grown sprouts and beets, a risotto with home-grown mushrooms and a choice of rib eye, a confit of sea bass and vegetables or a vegetarian quinoa with zucchini. The dinners have a $39 a guest fee, which includes wine.
During the day, the Culinary Arts Center offers cooking and cocktail classes, demonstrations and workshops.
Grand Dutch Café
It's all very Amsterdam (but sorry, no hash brownies). This café that wraps around the third deck atrium not only has an authentic (and complimentary) Dutch menu, its staff hails from Holland as well. Everything from Kroket (breaded snacks) to poffertjes and pannekoek (pancakes) to herring and Gouda cheeses are served on Royal Delft ware. Dutch beer's on draught and it's got the best coffee and hot chocolate on the ship as well.
For a souvenir to take home, there are authentic bags of not often exported Dutch candies and liquorices you can buy.
Sel de Mer
This is destined to be the splurge restaurant of choice to celebrate a special event on your cruises. Sel de Mer is a leap in restaurant at sea experiences, featuring fresh fois gras, a sea chest filled with fresh catches of the day and an intimate bistro room with seating for just 30. The chef's team go ashore at each port and purchase the best fish being landed by local fishing boats along with local spices and produce.
I started with pan-seared fois gras and ordered the day's prime catch: a whole red snapper that was marvellously moist and grilled perfectly. My table mates, who are well travelled, declared their Dover sole or salt crusted branzino the best they've ever tasted anywhere.
The other catch at this seafood brasserie is that it comes at a premium price. All the courses are a la carte. Hors d'oeuvres range from $7 to $14, entrees from $16 to $32 and desserts are $4. Yes, they're the kind of prices you'd pay at a good restaurant on land, but the meal and the service will be a highlight of your cruise.
Blend
Love full bodied red wines? Then you'll love this hands-on opportunity to create your own blend and find out what creates the tang of your favorite pour.
It's a new concept in a partnership with Washington State winery Chateau Ste. Michelle. Guests pay a rather steep $129 each to join a small group for a seminar in the art of blending red wine varieties from the chateau's vineyards into a custom mix that suits the guests' individual tastes. It's remarkable how even a 5 percent difference in the amount of cabernet sauvignon, merlot or cabernet franc in a wine can radically change not only the taste and mouth feel of a blend but even its fragrance.
Then the chemistry begins, as you actually tap big wine kegs to blend an elixir to your personal tastes in big beakers, pour it into a bottle, cap it and create a label. You can take it to dinner (or find a way to take ithome) and regale your friends about your own personal vintage (and how maybe there's a future for you as a wine taster).
G Gelato
And then there's the indulgence that calls to you every time you go near the pool on Koningsdam. The gelato at this bar is home-made, decadently rich and infinitely tasty.
Pick any flavour. Enough said.