Many Moods of the Mekong River Revealed on AmaWaterways' New Star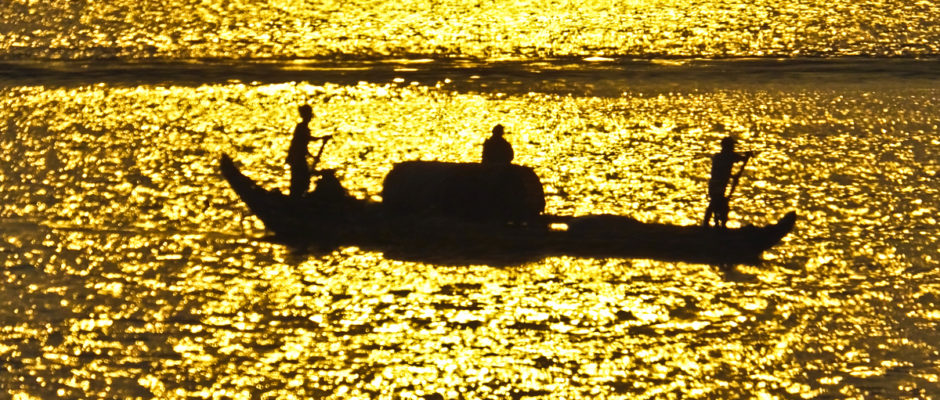 The ancient Mekong is a fascinatingly changeable river.
Sometimes, the water looks as blue as the intense tropical sky. At other times it's the muddy brown of the load of silt it carries from as far north as Tibet. It can suddenly seem to be a sea of green, carpeted by dense mats of floating water hyacinths.
And at sunset, it can magically appear to be a river of dazzling gold.
It's the source of food and water and the main highway in countries where roads are more concept than reality. Which is why the most comfortable and practical way to journey through Vietnam and Cambodia is on the water.
And as we sail on AmaWaterways' luxurious new AmaDara, we're a standout on a river that's plied mostly by rough and ready and decidedly utilitarian craft. There's an endless parade of fishing, cargo and house boats, which are mostly hand built and appear dangerously fragile.
Whenever we come into sight, kids and their parents wave and cheer this newcomer to the river that's our very comfortable home for a week.
The star of the river
Dara is the Khmer Cambodian word for star, we're told by our guide, who happens to also be named Dara.  AmaWaterways' new all-suite 124-passenger ship takes its design cues from Indo-Chinese ships of a century ago. It's a showcase of local craftsmanship, built on the river and trimmed with polished tropical hardwood floors and walls that are embellished by ornate wood carvings.
It's easy to get settled in to our large stateroom, which has ample closets and drawer space. The fixtures have a colonial appearance right down to the retro-looking phones in the suites that are reminiscent of French boudoir phones of the 1930s. These versions are digital of course.
AmaDara just got satellite television installed, but who needs it? The show passing constantly on the river is the star attraction and all the suites and staterooms on the ship feature Ama's unique twin balconies. A French balcony in a sitting area is ideal for viewing the river during the heat of the day, and there's also a walk-out balcony with chairs for relaxing morning and evening.
Then it's time to check out the lounge, whose bar has the funky charm of a speakeasy in the French Quarter of New Orleans, with its trim of polished wood and filigreed iron decorations. Local spirits are complimentary, but mixed drinks with name brands  are $6. The local brands include Old Nick Rum, Gin Harpoon and Fahe Whiskey (an alternative reality to fake whiskey perhaps?)
Going with the flow on excursions
The daily schedules of exploration and cruising on this Mekong cruise are similar to those on European river cruises, but with an intriguing twist. Rather than tie up on shore on the river that has few docks, the excursions come to us.
Most days, local wooden boats come alongside to take us on sightseeing trips around floating markets before dropping us off at tiny docks in villages. Homes here all tend to be built on tall stilts because the river can rise by as much as 20 feet during the summer monsoons from the level in the winter dry season.
There's a visible change of styles as we cross the unmarked border into Cambodia. The boats in Vietnam often have bows that are painted bright red with white eyes, based on a superstition that the camouflage helps keep river monsters at bay. In Cambodia, the boats are designed with high prows and sterns, reminiscent of Venetian gondolas or Viking longboats.
In Vietnam, the shores are often lined with fish farms.  While in Cambodia, fishing is still done by fleets of shallow boats whose rowers stand up and guide the boats with long oars and then toss a circle of nets weighted with pouches full of stones. The only signs of modern technology are those who rig up surplus V-6 engines spinning what looks like big egg beaters to push their boats into fishing spots.
Times are definitely changing, though. Older Cambodians, both women and men, still wear sarongs of thin knit fabric called sampot samloy. But these are fast fading in fashion. Teenagers love to wear Western-style jeans and t-shirts– as well they should since many of the brands we see in stores in North America are actually sewn together in factories in Cambodia.
Fresh fish and friendly farmers
There are one or two tours each day and each is filled with insights.
One afternoon included a walk through the street-side local market at Sa Dec, where fish are so fresh they leap from their tanks and storekeepers sit amid mountains of colorful tropical fruits. This is the Vietnamese village where French writer Marguerite Duras spent her childhood and her home has become a museum that recalls the colonial past.
Another day brought a walk through an idyllic farming village on what's known as Evergreen Island, where the guests got to interact with locals and school kids and get a feel for what their homes are like.
After we crossed the border into Cambodia, there were two days in bustling Phnom Penh. I chose to opt out of a morning tour to the gruesome Killing Fields where thousands were murdered by the dictator Pol Pot  in the 1970s. It just seemed too emotionally wrenching.
Instead, I visited the vast Central Market, where you can get lost amid crowded corridors of shops selling everything from gems to gowns to guitars–most of  them knockoffs. The prices are ridiculously low, but bargaining is expected.
A night market, within an easy walk of where the ship docked overnight was a delightful experience in the sounds, fashions and street food tastes of Cambodia.
Another day brought a visit to the village of Koh Chen whose workshops specialize in silver and copper jewelry and artworks and a walk through a temple complex.
Certainly one of the most touching tours was at Oudong, the former capital of Cambodia. The guests toured a serene Buddhist monastery and received a personal blessing from the monks. It was meal time for the monks, and guests got to line up to offer scoops of rice to a procession of monks—who eat at noon and then not again until the following morning.
After each adventure, we got to return to the ship where the staff of experienced Cambodia chefs has prepared a gourmet meal. That's a scrumptious story in itself.
Meanwhile, some practical advice
AmaWaterways' AmaDara is mostly all-inclusive. With the exceptions of  premium wines and mixed drinks and (wonderful) spa treatments, everything else is included.
It's customary to tip the driver $1 a person and the guide $2 a person at the end of tours. Shipboard gratuities of $10 a person a day for the crew and $2 a day for the cruise director on the ship can be added to your tab and paid with credit card.
Inflation is so excessive in Vietnam that vendors ashore would prefer to get paid in U.S. dollars rather than in dong. In Cambodia, the currency known as the riel is reeling so much that prices in markets and restaurants are generally posted in U.S. dollars.
In both countries, small U.S. bills of one, five or 10 dollars will suffice for almost any purchase you'll want to make on excursions. But people can be picky about the bills they accept. They prefer fresh, clean notes because banks charge locals for cashing in ripped or soiled bills. The simple solution is to ask your local bank to order a few hundred dollars' worth of fresh notes to take on your trip.
Then all you need to do is settle in and enjoy the ever-changing scenes on the Mekong.