On the Edge of Temptation: Celebrity Reveals its Next Generation Cuisine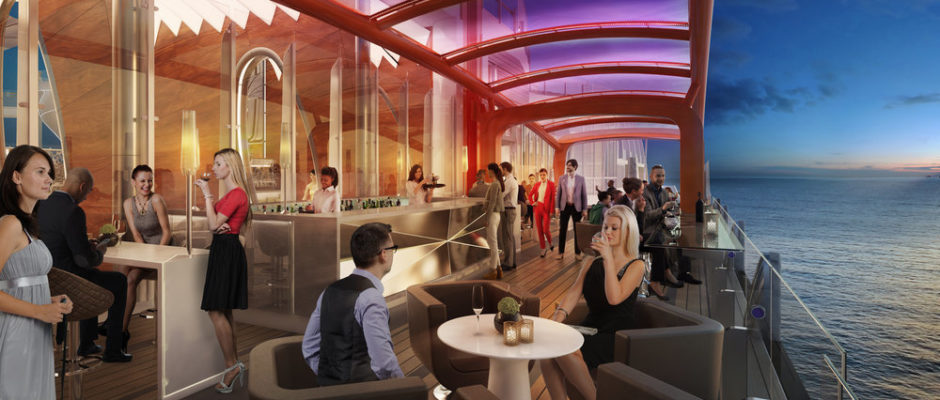 Celebrity Cruises has been letting out tantalizing details of the coming next-generation ship Celebrity Edge in small doses to keep everyone coming back for more. Now, as the big launch gets closer, the picture is finally filling in.
In a long-awaited reveal of the cuisine on the ship coming in November, the focus was on food. Celebrity executives and the culinary team led by the line's Michelin star Chef Cornelius Gallagher dazzled the invited guests at a preview in New York with a mouth-watering sampling.
The cornucopia of tasty possibilities is so full that it could take weeks on board the new ship to experience them all.  Get ready to indulge:
Choose one or choose to dine around
Celebrity has redesigned the main dining experience on Celebrity Edge to include not one, but four, complimentary restaurants. Each restaurant has a distinctive design and ambience inspired by a specific region of the world. Menus in every restaurant feature signature dishes that are offered that day in all the main dining venues, but 25 per cent of the items on each menu are unique, specialty selections of dishes that showcase the theme of the restaurant.
Tuscan Restaurant is an Italian-themed restaurant that's a nod to Tuscan Grill, the specialty restaurant that's become ultra-popular on other Celebrity ships. In addition to fresh-made pastas in the Florentine style, the menu will feature a wide range of Italian specialties.
Normandie Restaurant is a reinterpretation of the brand's French restaurant, Murano and will feature Continental fare. The décor pays homage to the classic 1930s French ocean liner Normandie, with the walls trimmed in glamourous polished wood panels recovered from the historic ship that were previously on the Celebrity Summit.
Cyprus Restaurant is a showcase of Mediterranean cuisine, with a focus on the Greek heritage of Celebrity, which was born as Chandris Lines. The space was created by world-renowned designer Patricia Urquiola.
Cosmopolitan Restaurant, featuring new American cuisine, will offer Celebrity's largest selection of dishes ever, plus regionally inspired wines, cocktails and dishes that are served nowhere else onboard.
An expanded range of dining options
The Celebrity Select Dining program has been renamed Celebrity Select Dining Plus and it now allows guests to dine when and where they'd like to each evening. They can make reservations in any of the four restaurants at the time they wish.
But there's still the option of Celebrity Traditional Dining, where guests choose early or late seating for dinner at the same table with the same waiter every evening. With this option, they will be assigned to one of the four main restaurants, yet still have the ability to experience the others on request.
Incentive to step up to the Suite Life
Dining on Celebrity Edge can be an exclusive affair. For guests in Suite Class, a private restaurant, Luminae at The Retreat is an evolution of the exclusive restaurant found on other ships in the Celebrity fleet, designed by renowned interior decorator Kelly Hoppen.
AquaClass guests will also have their own exclusive restaurant in the spa-inspired restaurant Blu.
A world of bar-hopping experiences
There will be 11 unique bars and lounges on board – including the lavish and ever-popular Martini Bar and the new concept Eden Bar, that's in a garden whose living walls provide garnishes for the drinks.
The new reveals include: The Retreat Lounge and The Retreat Pool Bar, both exclusive for Suite Class guests; The Theater Bar; The Casino Bar; The Club and Café Al Bacio, that's destined to be a meeting place that serves specialty coffees and complimentary pastries. Other casual lounges include The Pool Bar and Edge Cabanas; Sunset Bar; and Il Secondo Bacio.
More reasons to keep exploring
There are five other eclectic and diverse complimentary dining offerings. The Oceanview Café buffet will feature a dazzling array of action stations with dishes made to order. There's also a Mast Grill, which has been seen on other Celebrity ships. But there are three completely new offerings – Grand Plaza Café, The Spa Café and Juice Bar, and the Eden Café.
In addition, Celebrity Edge will feature six inventive new specialty restaurants, with a la carte pricing:
Fine Cut Steakhouse, as its name suggests, will serve up premium cuts in what Celebrity promises will "raise dining to an art form." Another meat-lovers' specialty venue, the Rooftop Garden Grill promises to be a friendly backyard BBQ party.
Eden Restaurant, is destined to be the most eclectic place to dine. It's a garden setting with an open- air kitchen and menus that deliver inventive "sensory and experiential offerings" served by performers known as Edenists, who will dance, juggle and amuse between courses.
Raw on 5 is described as a blend of St. Tropez and New England seafood restaurants and the dining can go right over the edge: When the innovative Magic Carpet platform–that serves as a tender landing by day–is positioned at the very top level, it becomes an extraordinary and exhilarating dining zone known as Dinner on the Edge.
For breakfast and lunch, Le Grand Bistro is reminiscent of a bustling French boulangerie-patisserie, with handmade macaroons, artisanal cheeses and freshly baked bread available to go.
The biggest treat at the culinary reveal was saved for last, a mad alternative-reality party that's going to be an experience you'll just have to see to believe:
Dinners in  Le Grand Bistro will feature Le Petite Chef, an almost-believable cartoon character meticulously assembling the makings of a virtual dessert on an empty white plate during a fascinating three- minute animated performance. Then, waiters deliver a parade of the real desserts, looking identical to the animation, down to the flaming flutes atop a mound of luscious ice cream and fruit
It's a performance designed by visual artists Skull Mapping that's part of a new partnership between Celebrity and TableMotion Studios and Skull Mapping to create a fusion of entertainment and dining that is destined to become a signature of Celebrity's other ships as well.
Where would you like to sea?
But of course, there's always going to be an endless show going on around the ship and Edge is designed to give guests an unprecedented experience of the sea and land everywhere it sails.
Homeporting in Fort Lauderdale, Celebrity Edge will be making her first sailing November 21, 2018. After an inaugural winter in the Caribbean, the ship moves to the Mediterranean for a summer and fall of seven- to 11-night sailings from Barcelona and Rome in 2019.
And there's much more yet to come. Celebrity Edge will be joined by three sister ships in 2020, 2021 and 2022.