Royal Caribbean's Biggest Ever Named in Techno Champagne Style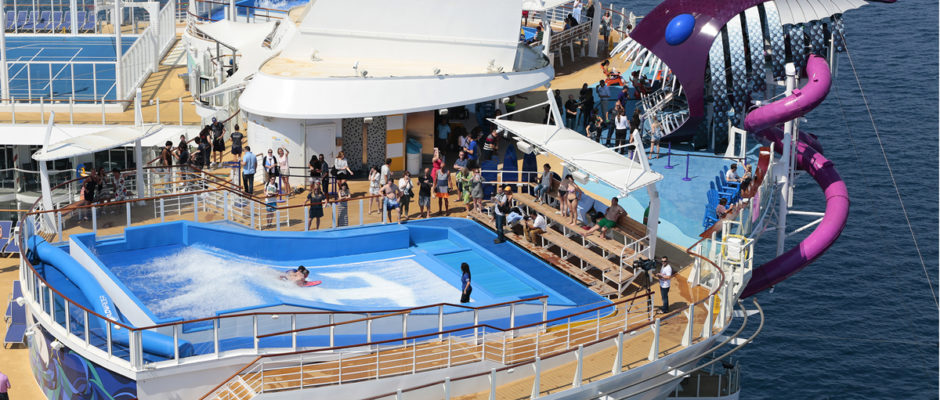 When you're celebrating the world's biggest cruise ship, nothing small will do.
The time-honored tradition of having a Godmother break a bottle of Champagne against the bow to bless the ship went bigger than magnum for the naming ceremony of Harmony of the Seas.
To celebrate the ship that has 16 decks and carries 5,200 guests,  Royal Caribbean International commissioned Veuve Cliquot to make the biggest bottle of Champagne ever.
Called a Sovereign, the bottle holding nearly six gallons of wonderful bubbly—the equivalent of 28 regular bottles –was set up to break against a wall on Harmony's Boardwalk at a gala ceremony.
But just breaking the bottle wouldn't do, it was a spectacular choreography that included entertainment, technology and a gracious Godmother, the dedicated Florida teacher Brittany Affolter.
The event featured a water dance show, a skating performance, a concert by a pipe and drum band and an excerpt from the musical Grease and prayers from clergymen.
Then the main event: An aerialist dancer floated 10 decks to the stage to hand the Godmother a button. Pushing that that signalled a robotic bartender to press  another button that finally sent the bottle sailing across the Boardwalk to end in a dramatic splash
It happened in Fort Lauderdale on November 10, 2016, with Michael Bayley, Royal Caribbean's President and Richard Fain, the line's Chairman on stage along with Harmony's Captain, Gus Andersson.