Seabourn Passengers Make Like Mountain Goats on a Norwegian Trek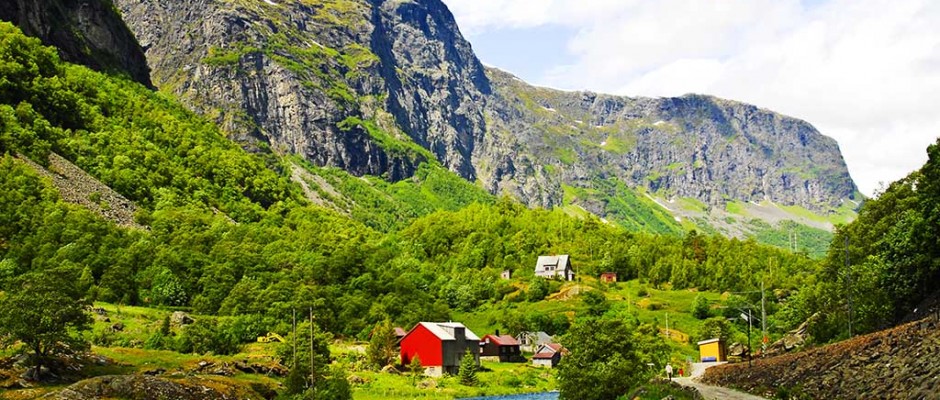 I couldn't get the Beatles tune The Long and Winding Road out of my head as passengers from Seabourn Sojourn started out down a rocky mountainside road best suited for mountain goats.
There are 18 hairpin turns on an old construction road that scales the nearly sheer cliffs of a mountain that looms above the tiny village of Blomheller, near Sojourn's port stop in Flaam, Norway. But what a beautiful trek is it.
Sprays of wildflowers create bouquets of yellows, purples and pinks and everything that isn't white or black rock is brilliantly green. And in all directions snow covered peaks are streaked with waterfalls.
This is one of those experiences you have to do to believe. No photo or video could ever do justice to the sheer scale of the mountains lining the Sognefjord, the deepest and longest fjord in Norway. A cool spring means that the spring snow melt is happening in summer this year and the rivers are torrents that would challenge even the heartiest of white water rafters. It's an indication of how enthusiastic and active passengers who sail on Seabourn Cruise Line are that 44 of the 450 passengers on this trip up the coast of Norway had signed up for what was billed as a "hike adventure." We may not have been quite as intrepid as the hearty souls struggling to get their trail bikes up the mountain road for a thrilling and bumpy slalom back down, or the base jumpers who took leaps of faith off the sheer face of the mountain, but we hikers showed courage and skill walking down 20 percent grades on loose, slippery quartz rocks along the trail that had no guard rails.
We'd travelled on the famous Flaam to Myrdal railway through the mountain passes to a station near the top of a peak. At a quaint wooden inn that caters to adventurers we had waffles and cups of strong coffee before heading out. From there it was five hours on foot down the mountain and across deep, valleys inhabited by a few farmers and their many goats. All of us had packed hiking boots and some even had Alpine trekking poles, which would have come in handy because this is serious sports country.
Seabourn provided two very experienced climbers and experts in the flora and fauna to lead the expedition, but the hikers were free to set their own pace. I was amazed at how robust and fit my fellow passengers, who averaged in their 60s really were. I tended to bring up the rear because there was so much to take photos of I was stopping regularly.
A real highlight in the valley was a flock of goats who were as friendly as little kids, nuzzling up and enjoying ear rubs and head pats. We had a sample of the brown cheese made from the local goat milk and I found it a little bland for my taste, but it's high protein and that was useful for this trail. The sun was brilliant and so were the vistas in the valley as we headed back toward the rail line and a return trip to Flaam. More than once I heard fellow hikers comment this walk alone was worth the entire trip. I agree, but this is only the first of many adventures on our two weeks aboard Seabourn Sojourn in Norway.