Seabourn Sojourn's Olden Day Shows Why Norway's the Stuff of Fairy Tales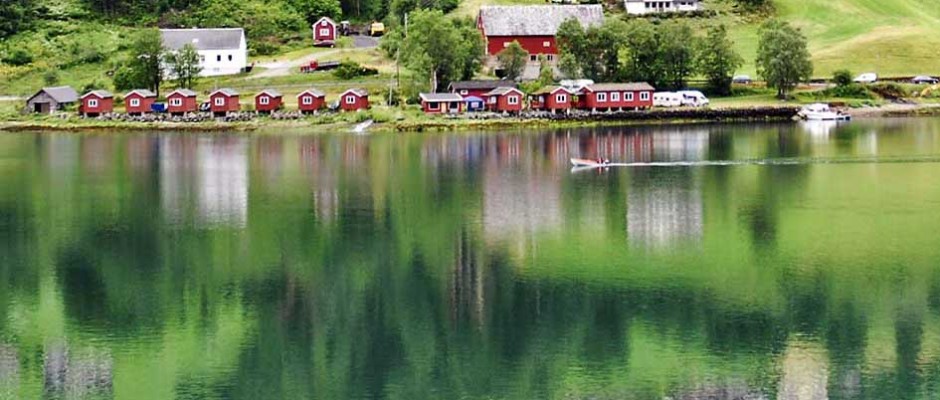 When Seabourn Sojourn docks in Olden, Norway, the local population doubles. The village is olden all right– with several of its houses and its iconic church dating back to the 1700s. And the setting is quaint in a way that only a Norwegian fjord village in midsummer when the wildflowers are in bloom can be.
Olden's population is only 480—fewer than the combined population of guests and crew aboard Sojourn. In fact, it's probably about the smallest place I've ever spent a day in port on any ship. But there's good reason for docking here: this is just about the quintessence of everything that visitors want to see in Norway even if they never leave the ship.
William Grinnell, from California, was sitting on deck with oil paints and a canvas on his easel to capture the scene as Sojourn pulled in to the fjord. Heavy mist hung low over the mountains, giving it a lost- in-time feel.
Olden is a perfect subject and in the misty morning, the green hills with their red wooden houses looked even more like a fairy tale setting than it usually does. Bill explains that he took up oil painting years ago. "It really helps you meet women," he said. Because he's married, of course,that doesn't necessarily help much. Fortunately, his wife is understanding of a hobby whose images take up a lot more space than photographs.
After a leisurely breakfast on the outdoor deck of Sojourn's Colonnade restaurant I got off the ship for an early morning stroll and I literally had the magical place to myself. There wasn't a car on the two lane main road or a tourist in any of the shops.
And what a magical place it is. The flowers growing wild on the hillsides here are the kinds of things you'd buy in expensive pots from greenhouses anywhere else and hope to see grow to a tenth the size you see here. Don't even try to name them because there are so many varieties. The palette is blue, yellow, lavender, purple, rose and lots of shades of green and white and when the sun shines, the scene is spectacular.
On a quiet hillside surrounded by a graveyard sits Olden's church. The current white clapboard Gamle Kirche dates to 1759 but the plaque also notes that a church has stood on this site since 1308. And I bet they also have a record of everyone who's lived in the town for all those years.
This is cottage country for those who live in Bergen—a four-hour drive south of here– and on weekends I have to imagine that the stores in town do become busy. But we're in town on a Monday and we've got the place pretty much to ourselves.
These days, quaint old Olden is trying to promote itself as a fashion center and most of the stores that are open on a Monday sell clothing. Interestingly many of the fashions that aren't t-shirts and shorts are tropical print dresses and linen outfits, This in a place where the temperature rarely gets above 80 degrees. If you're really into Norway, you can get a jacket in the red with blue and white cross of the Norwegian flag or a sun dress printed with snow-capped peaks.
One store is still caters to the olden days, selling fishing tackle and renting hip waders and rowboats for the tourists who have taken over from the real fishing industry. We're at the end of the sixth longest fjord in Norway and it's a great place to fish for salmon from a motorboat.
The quaint rows of red fishing shacks that line the coast are now rented out by the week as vacation cottages. In the larger resort houses you not only get a shower but also a washing machine and a sauna– which I'm sure the early Vikings would have appreciated.
It was a pleasant morning and the day had only started. After lunch on Sojourn, I'll be making the trek to the biggest attraction of this part of Norway: the Briksdal Glacier, which is worth its own story. Check it out in my next post on Cruisington.com.