SeaDream Features Vino Voyages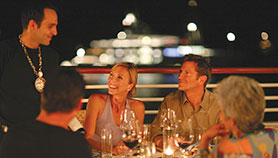 SeaDream Yacht Club has added eight wine-intensive voyages to its 2015 season. Each provides guests with sit-down tastings featuring wineries in famous regions of Europe with master class tastings with wine makers and experts. As well there will be tastings from the extensive SeaDream cellar.
At an exclusive Winemaker's Dinner taking place onboard, the chef will craft a special menu to match the wine of the winemaker joining for the evening. The innovative culinary program also showcases local delicacies from ports of call. The sailings include cruises from Civitavecchia (the port for Rome), Monte Carlo, Dubrovnik, Croatia and Malaga, Spain.