Settling In to an Elegant Home at Sea for an Adventurous Azamara Journey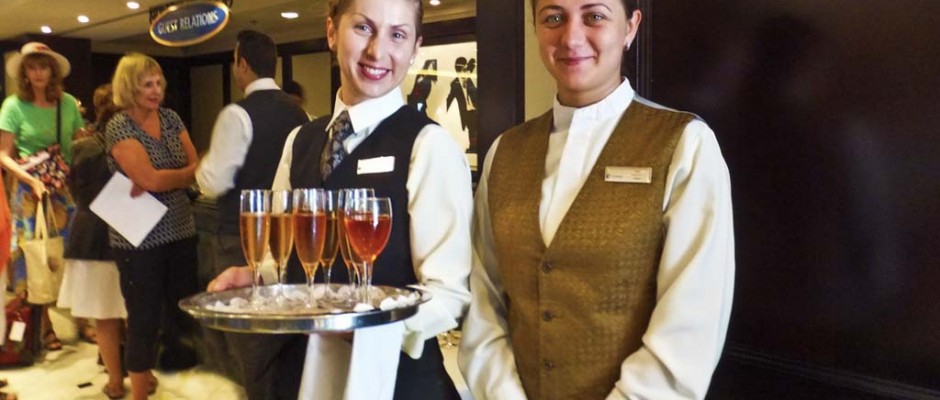 Is Azamara Journey a big small ship or a small big ship?
It's a question I pondered on the gangway boarding Azamara Club Cruises'  newly upgraded Journey in Athens' port of Piraeus.
At 10 decks tall, the 694 passenger Azamara Journey has got an impressive size, even though it's berthed alongside a couple of other ships that carry at least twice as many passengers. And it's got a newly sophisticated yacht-like look because the recent refit included repainting the formerly all-while hull in a nautical blazer blue.
It's definitely a big cruise ship from the outside, but entering the lobby feels like walking into the hallway of an elegant home. The walls are done in dark wood-veneer panelling and accented by Georgian-style columns with elaborate capitals. A grand staircase worthy of Tara or some other grand mansion is the central focus of the lobby. And there are comfortable leather lounge chairs and lots of art works to make the space feel cozy.
A stewardess offers a welcoming glass of bubbly, but unfortunately my wife and I had to give it a pass because we had our hands filled with carry-on bags and some shopping. It might have been nice to have someone from the crew offer to help and show us to our room. But then again, it was only a few steps to the elevator and not far to our stateroom, so it was probably better to have the staff speeding the boarding process ashore.
On this week's Azamara Journey through the Greek isles we're going to be stopping a picturesque Mykonos, fortified Rhodes, cliffside Santorini and Kos the island where Hippocrates laid down the principles doctors still swear by. And there are two other stops in Turkey.
A brochure was waiting in the room about the highlight of the trip, the AzAmazing Evening on our visit to Kusadasi, Turkey. The ship's entire guests are invited to a complimentary private classical concert in a 2,000-year-old odeon, one of the theatres unearthed in excavations of the ruins of the biblical city of Ephesus. And finally a visit to Marmaris, a part of Turkey I've never visited before.
This is going to be a full-scale adventure, but first I need to settle in to my home for the coming week.
While I unpack my bags, here's a photo tour of my first look around the ship: