Straight up! Is a Beverage Package on a Cruise a Good Deal?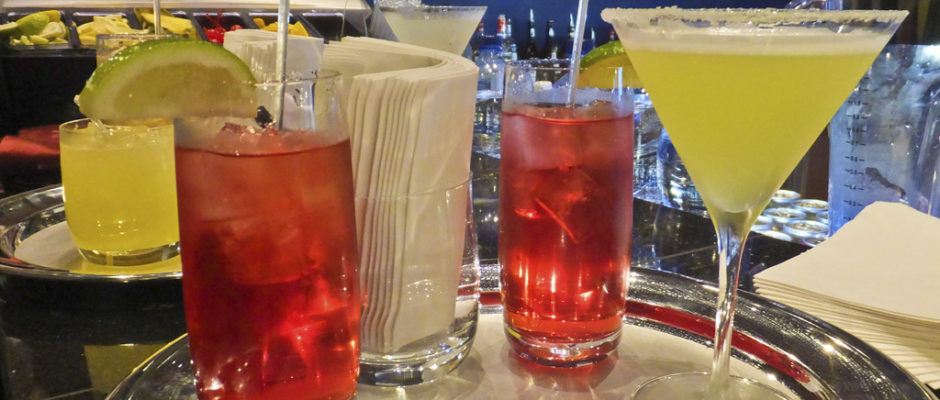 Yes, yes we know moderation is a virtue. But a cruise is after all a vacation, and somebody else is doing the driving.
A cool one or two does taste awfully good while you chill by the pool. As the day wears on, there are any number of fun places to have a cocktail before dinner. And wine goes so well with the gourmet  meals on board. Then, why not have a nightcap as you watch the show?
The fun and the friends, the sunshine and late night parties on a cruise make for more incentives to tipple. But it can be easy to forget you're running a tab–that on many cruise lines even includes the cost of juices and soft drinks. That can bring on a financial hangover when the final bill shows up at your stateroom door at  the end of the cruise.
The simplest way around this, of course, is to book a premium line like Crystal Cruises, Regent Seven Seas or Silversea Cruises, where all drinks—within limits– are included in the fare.
Increasingly, cruise lines that aren't all-inclusive are offering optional flat-fee drinks packages so you know the total tab upfront. Let's do a little math to figure out whether one makes for a good deal for you.
Mixing it up at the bar
Our test case is Royal Caribbean, which has the easiest plan to understand. Many lines offer several tiers of drinks packages, but in September, 2016, Royal Caribbean narrowed its options down to one unlimited package. On a cruise on Harmony of the Seas, we've done a little math to figure out whether it's a good deal for you.
If you're paying by the drink, cocktails, martinis and frozen drinks are priced at $12, Imported beers cost $6.25, while American beers are $6.95. (That's not just because of patriotism: the U.S. brews come in bigger 16-ounce recyclable aluminum bottles). House wines are priced between $8 and $14 a glass. Soft drinks are $1.95, juices are $3.95 and specialty coffees can cost as much as $5.
The Deluxe Beverage Package, costs $55 per passenger, per day and covers unlimited beers, wines by the glass, cocktails, non-alcoholic beverages, premium coffee, tea, fountain soda, fresh squeezed juices, sparking and bottled still water. The price comes to $65 a day with the mandatory 18 per cent service charges added to bar chits.
Unlimited still has some limits
The package includes drinks with a value of up to $12. And if you order a drink that costs more, you'll be charged for the difference. If you want a wine other than the house pours at dinner, you'll get a 20 per cent discount on bottles under $100 and a 40 per cent discount on a splurge over $100. Room service and minibar items are not included in the package.
There's no upper limit, though. The closest thing to a cut off is with the soda fountain cups at automated drink dispensers. They limit refills to once every 15 minutes. (It's not that people get so thirsty, it's apparently a way to prevent people at unattended dispensers from pouring the soda into the cups of people who don't have a drinks package and then getting a refill.)
Some math on the back of a cocktail napkin
How many drinks would you need to drink to theoretically break even on the cost of the package versus ordering the same drinks a la carte?
The $55 per day adds up to $385 for a seven-night cruise. On top of this, you pay the 18 per cent gratuity up front, so that comes to $454.30 per person. Remember, you can't share, so a partner who wants to keep up will also have to also buy a package or pay separately.
So, to "break even" on the unlimited beverage package would take about six mixed drinks or glasses of wine, or five drinks and two premium coffees or juices, per day.
Factors to stir in
This calculation assumes guests want to consume a variety of drinks. However, if you are a beer drinker and don't care for much else, it will take a heroic  eight beers a day to break even.
Meanwhile, what's your plan for going ashore?
While the drink packages work on Royal Caribbean's private islands of Labadee and CocoCay, they don't cover drinks you may have ashore in other ports. So if your itinerary has mostly sea days, it becomes easier to get the value from the package.
The package also doesn't cover the price of coffees at Starbucks, which has opened shops on Harmony of the Seas and her two Royal Caribbean Oasis-class fleet mates.
It is also important to note that signing up in advance as you check in on line for the cruise can bring a discount on the beverage package of 20 per cent off on many cruises. That can reduce by a drink or two the number it takes to break even.
So what will it be?
The bottom line is that a beverage package is the most benefit to guests who want a variety of premium drinks through the day on their cruises. Those who stick to beer will find it more difficult to make the deluxe beverage package worthwhile over the course of the cruise.
Feedback on websites also indicates  that many cruisers experience burnout. They find it difficult to maintain the level of drinking required get value from the package on cruises of more than seven days.
Ultimately, it's up to you.
Is drinking up to get your money's worth the real purpose of your cruise? If so, it's an easy choice. But if not, stick to paying as you go.
Either way, enjoy your cruise.