Stupendous Stupas Accent Ama's Entry into Myanmar Cruising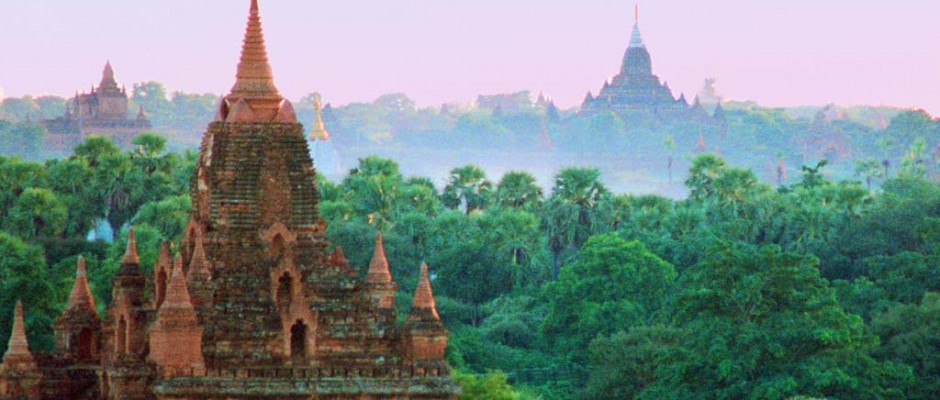 There's no sight quite like the endless vista of ancient Buddhist stupas in the valley of Bagan at sunset as the light plays off the domed roofs topped with gilded spires that have been here for 1000 years.
But then again the whole country of Myanmar  is like some unbelievably magical scene from an imagined world.
"Myanmar is one of the most wonderful places in the world," says Rudi Schreiner, president of AmaWaterways, who has seen most of what the world has to offer in years of seeking out new locales for his river cruise company to visit.
On an exploratory trip planning two new river cruise ships in the former Burma, he says was constantly amazed and surprised.
"We expected it to be quiet and slow, but we were surprised by the activity and liveliness of Yangon," the capital formerly known as Rangoon, Schermer said in a preview of Ama's new river cruises in Myanmar.
Using Yangon as the starting or ending point of cruises gives guests many more experiences on the Ayeyarwady (aka Irrawady) River than other river cruises in the country. In fact, cruising is really only opening up in the past few years, after years in which Myanmar was virtually off the tourist maps.
"The government became military and they lost focus on the rest on the world and the country kind of fell asleep," for a couple of decades, he says.
Schreiner found that in the 1920s there were at least 600 ships carrying passengers on the river, but they were all destroyed during the Second World War.
The country has opened in the past three years and there is new infrastructure and new ships are appearing on the river. Fortunately for today's tourists it remains unspoiled—for at least the next few years until tourism become established.
The scenes from the river offer countless pagodas and stupas. Programs on a typical cruise offers three or four nights, very short for a real insight into Myanmar, Schreiner points out. We want to allow passengers to relax and see the sights we are offering 10 and 14 night programs.
Passengers fly  via Bangkok to Yangon and get an overnight stay in the Shangri-La hotel, (the former Traders Hotel).
Ama's first river ship, Amapura, was built in Myanmar and will have 28 staterooms with a capacity of 56 passengers. There will be 40 crew to take care of them. It's designed to have large public areas and its shallow draft allows it to go in places where the river is low, something many other river cruise ships can't do.
Evening entertainments will feature such things as traditional puppet shows and a highlight will be a sunset tour of ancient Bagan, with its skyline of pagodas and stupas. Excursions are all included including Mount Popa, which requires 777 steps up hill. "I thought it would be impossible, but it turned out to be easier than I expected,. Schreiner says.
A 10-night package starts at $4,499 U.S. a person. Included are the hotel in Yangon, shore excursions all meals, complimentary house wines and beers, evening entertainments and transfers.
The Amapura is already almost sold out for cruises from the November launch into early 2015, Schreiner says.
AmaWaterways is offering those who book early for next March or April up to a $1,000 discount and waiving single supplements.
An add-on option extension to Inle Lake is also available, requiring a flight to the city with its houses built on stilts over the water.
River levels reach their low in April and May and the weather is hot, so Ama won't be sailing then. Summer departures for 2015 are also in the offing." It's the hot season but not oppressive on the river," Schreiner says.
"September to October is rainiest season but even then it tends to be short burst of rain followed by sun–sort of like New Orleans in rainy season."