Taking a Bow: The New Faces of the Next Generation of Cruise Ships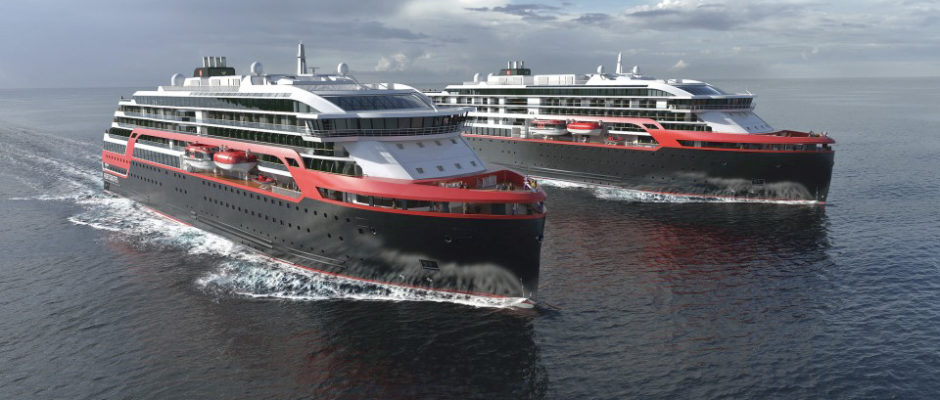 The designs of the next generation of cruise ships are taking bows to the past.
The latest announcements of cruise ship orders signal that the blunt prows that were the favored design for ocean liners a century ago are coming back into fashion.
It's a stark contrast to recent decades, where a sleekly rakish, looming prow was the design favored for new cruise ships.
This year is seeing a flurry of new ships with nearly vertical bows and recent weeks have seen orders for at least half a dozen more.
Here's why it's the new fashion trend:
The shape of the front end of a ship today is largely a matter of changing tastes, but a long prow served a practical purpose before the age of engines. On a clipper ship, a long bowsprit was essential for attaching the arrays of ropes and stays that supported masts and raised the sails.
As sail ships got bigger, they got longer and front ends sported a tusk-like bowsprit jutting from the tip, often adorned with carvings of beautiful goddesses or fantastic beasts.
But with the coming of the age of steam around 1880, more knife-like vertical prows came to represent speedy ships– epitomized by White Star Line's Titanic and her sister ship Olympic— that could slice right through waves.
Pointy bows only came back into vogue with the age of streamlining in the 1930s, starting with Cunard Line's Queen Mary. The fashion probably reached its peak with the dramatically jutting prow of Crystal Cruises' Crystal Symphony.
Now the tides are turning again.
Cruise designers say a knife-edge bow design is more efficient than a flared bow. It is also said to cause less stress and strain on the vessel as it slices through heavy seas, instead of trying to part them as the usual flared bow does.
There are critics who note that with less ship between the bow and the deck, a vertical prow can make for more water splashing over forward decks. But designers say that's easily overcome with a higher wall or enclosure around the bow.
AIDA's newest leads the trend
The arrival of AIDA Cruises' AIDAprima in Hamburg in February is the start of a new dynasty. The 3,268-guest ship and a coming sister AIDAperla sport an almost vertical bow design and a covered front deck. The cheeky way AIDA chose to introduce the new look was to paint big puckered red lips around the bow.
Four similar, but larger 5,000-berth ships recently were placed on order by parent company Carnival Corp. for AIDA and sister company Costa Cruises.
Hurtigruten making a big splash
Norwegian exploration travel company Hurtigruten has announced an order of up to four new Arctic-rated ships to meet growing demand. The artist's sketches show the 600-guest ships will feature very blunt front ends. The first two will debut in 2018 and 2019, and there is an option for two more ships to debut after 2020.
The signing marks the largest investment Hurtigruten has made in its more than 120 years. The new ships will be designed to operate in the Arctic and Antarctic regions as well as along the Norwegian coast. Like the new AIDA ships, they will be equipped with advanced environmental technology to reduce emissions and allow Hurtigruten to meet its sustainability goals.
Crystal Cruises chooses the look
The 200-guest polar expedition ship Crystal Endeavor due in 2018 also sports a vertical bow. Being built by Lloyd Werft in Bremerhaven, she will be named for Captain Cook's ship HMS Endeavor and delivery is scheduled for August, 2018.
Also notable are the new Crystal River Cruises ships that also feature snub noses. While they don't have to brave rough seas, the design gives them a dramatic appearance. The 106-guest Crystal Bach starts sailing the Rhine in June, to be joined by Crystal Mahler, coming in August. Two more ships arriving in 2018 Crystal Debussy and Crystal Ravel, carry only 78 guests and are designed to sail on the Seine, Garonne, Dordogne and Gironde rivers in France.
Norwegian's next generation
Joining the trend, Norwegian Cruise Line signed an agreement in February with Fincantieri S.p.A. shipbuilders to build four next-generation ships to be delivered one a year from 2022 to 2025, with an option for two more to be delivered in 2026 and 2027.
All four ships will be able to carry approximately 3,300 guests and will build on its Breakaway-plus class that includes the cruise line's latest ship, Norwegian Escape, as well as its next two, Norwegian Joy and Norwegian Bliss.
While few details of the new ships have been released, a preliminary drawing also shows the ships will have nearly vertical bows. While carrying fewer guests than Norwegian's Breakaway-Plus class, additions will include 12 pools and hot tubs, a "Snow Room" that fills with four inches of snow and a three-story ropes course, the first of its kind at sea, as well as its first Margaritaville restaurant at sea.
This is not a trend to be snubbed.