Viking Star: An Attractive Blonde Turning Heads on the High Seas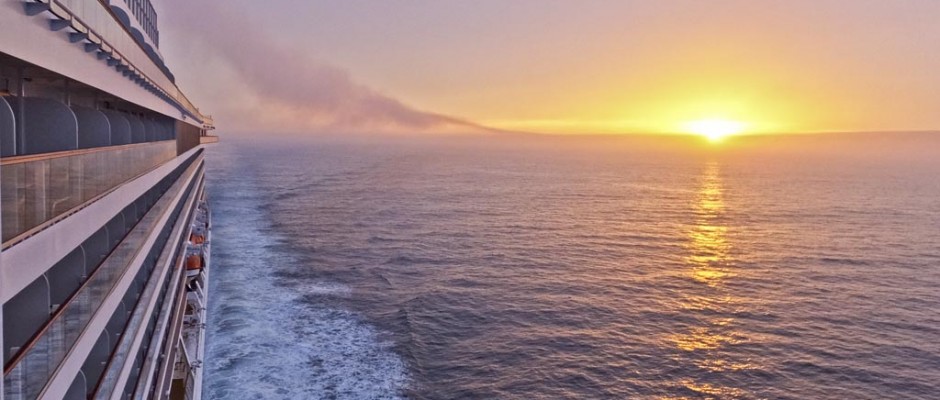 In the Viking Star's Nordic Spa, you can warm yourself up in a sauna or steam room and then roll in the snow in an icicle-lined grotto where it's always below zero.
At Mamsen's Norwegian cafe, you can dine on open-faced sandwiches and fresh waffles topped with colorful jams or fruits.
Everywhere, there are Norwegian touches and reminders of the legacies—more benign than legends make them out to be —of the explorations of the Vikings.
Viking Star is the attractive blonde turning heads across Europe this year and she's aiming to shake up the cruise industry.
She's the descendant of a dramatically successful line of river cruise ships conceived  by a man who got his start as CEO of the former Royal Viking Line.
Viking Ocean Cruises chairman Torstein Hagen wants to do for ocean cruises what he did for river cruises: make them available and more affordable to everyone, with a fleet of ships that provide a lot of features you'd pay extra for on other cruise lines.
There's been a lot of hype and hope and here's a first-hand look from a five-day segment of Viking Star's inaugural cruise that took us from Lisbon to London in advance of the ship's official christening in Bergen on Norway Day, May 17, 2015.
The Ship
Of course it's a brand new ship, but it's impressive how gleamingly clean every surface of the ship looks. Blonde wood finishes are everywhere; in floors, walls and even the shower stalls in bath rooms. Because of fire regulations, most of the apparent wood is actually composite materials or metal with a wood finish, but it definitely looks like the real thing.
The Winter Garden alongside the pool deck with its curving wood lattice ceiling ranks as one of the most impressive lounges on any ship.
The all-purpose lobby area, aptly named the Living Room, features an espresso bar and cozy nooks, tables and book cases filled with art and history books. Just as impressive is the Explorers' Lounge,  an  observation area in the upper deck in the front  of the ship, which on many ships is often a dead zone. Here it's a broad, inviting space with plenty of comfortable furnishings and seating on two levels connected by curving glass staircases.
There are no shortages of places to sit and stretch out anywhere on the ship. Despite the fact that it carries 930 guests, no area ever seems particularly busy.
There will be much more to say about the restaurants and public areas after the cruise has ended.
The Crew
Virtually all of the crew members have served on other ocean ships. Viking, which has 60 river cruise ships, realized that ocean cruising is different than working on a small ship on inland waterways. Most of the restaurant and bar staff and the senior officers have ocean experience on other premium brands, so they offer the same efficiency and attention to detail in their new home. I could sense an excitement among the crew in being part of a new cruise line.
Fellow Guests
On this inaugural cruise, 124 of the 930 guests were Americans who had booked for 50 consecutive days. That's likely to be an anomaly, but it's clear that the main markets for the ship will be the same as for the Viking River ships: from America, Canada and Britain. Many have cruised on other ships before, but a fair number of passengers said they've only done river cruises before and are getting a first experience in ocean cruising.
The ship does have quite a few more passengers than a Silversea or Oceania ship will have and that means it can be tricky to get a window table at lunch time or the evening at the buffet-style World Cafe and guests are limited to one evening each cruise at the specialty restaurants, Manfredi's and the Chef's Table.
Tour and restaurant staff  advised that it's wise to make bookings for restaurants and shore excursions on-line a couple of weeks before a cruise to get the times and experiences you want.
The Itinerary
On this particular journey, you might be excused if you thought Viking has launched an ocean ship to do river cruises. The journey included a half day's sail up the Seine to Rouen, France and a cruise up the Thames to Greenwich. These are anomalies, though. On other parts of the cruise the ship was docked in ports on the coasts. We happened to have three days at sea on this segment, including a particularly rough sea day. That proved that the ship, built by Fincantieri, the same Italian shipyard that does the big ships for Carnival Corp., was up to the task of braving the elements. It's a smooth and quiet cruiser.
Viking is a line that wants to conquer Europe and its first year itineraries are showing off the Norwegian-flagged ship in far-flung itineraries that include sailings to Scandinavia from England, and also Mediterranean cruises all the way to Istanbul.
The Complimentary Internet
One of Viking's claims to innovation is the fact that complimentary wi-fi Internet is being offered throughout the ship. It's a perk that only the ultra-luxury lines are starting to offer.
However, if the service on this early cruise is any indication, you get what you pay for. The service seems to be like the system used on river cruise ships, with a strong signal only close to main ports and virtually out of service for many parts of the day. Google was accessible mornings and evenings but often not available. It's been impossible to get e-mail to download or attach even a small photo to a Twitter tweet.
It might be that so many passengers were using the system at the same time that you can never get enough bandwidth. I'm betting that in the future, there will be an upgrade offering a premium service at an additional fee.
Techno Entertainment
Technology does shine in other respects on Viking Star. The advantage of a new ship is that it can offer the latest in techno wizardry. A wow factor on this ship is that it's got the latest 3-D LED video wall technology. That meant the company of eight singers and dancers can make the stage seem infinite, with casts of realistic virtual dancers that can rival a Busby Berkley extravaganza. The productions are flashy and compelling and the theater was packed for every show.
Another remarkably successful space is the Winter Garden and adjoining pool deck, which also features an LED screen for shows and movie nights. A four-man salute to British music of the Carnaby Street era had guests up dancing and singing along.
A twist I've never seen on any other ship is a roaming team of poetry readers who give impromptu performances around the ship.
The Value Proposition
Here's where it gets interesting. The cruise line is claiming to be the best value in the premium cruise category.  Is it?
Chairman Tor Hagen presented a slide show in which he claimed you can book a week on Viking for at least 50 per cent less than an equivalent package on competing Oceania Cruises. The numbers are not quite as impressive in comparison to Celebrity Cruises and Holland America Line but Viking still comes out on top.
The comparison may not be strictly apples to apples, because the other lines regularly have promotions that include air fare, cabin upgrades and drinks or gratuities packages and it's not necessarily clear that things like the included wine brands are equivalent vintages.
Only one tour option in each port is complimentary on Viking. On a port stop in Rouen, for instance, the included excursion was a local walking tour. All the other trips to Normandy or Paris came at prices from $99 to $200, which are equivalent to the costs of shore excursions on competing lines.
Still, there's a tremendous amount of value included in Viking's inclusive package, including unlimited use of the thermal spa, wines and beers with lunches and dinners and gratuities.
What's The Verdict?
So what do we call Viking's ocean product? The service and food are definitely superior to the entry-level ships and the prices are better than the luxury brands. It's probably best described as a niche premium class. At 930 passengers it's bigger than many of the ships in the premium market, but that also allows it to have more options.
There will be more. Viking is launching a sister to the Star next year and a third is now scheduled for early 2017.
Stay tuned for our review of the Viking Star restaurants and lounges.