We'll Always Have Paris; Getting There from a Cruise is the Trick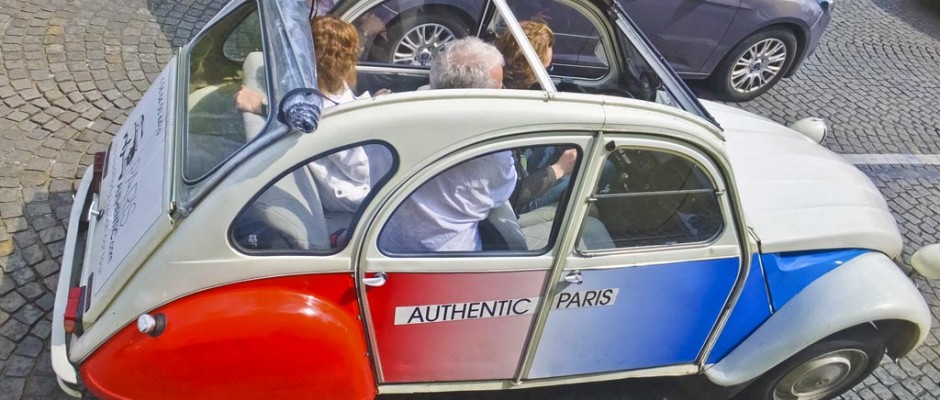 So much to see and so little time. It's always a dilemma trying to figure out how to get to Paris when you're only stopping in France for one day on a cruise ship in Le Havre, which is two hours by road or rail from the City of Light.
On a recent trip we were even closer. On a cruise on the Viking Cruises' new Viking Star we sailed up Seine and docked in Rouen, a city that I know has its architectural charms and art and a history that includes that unforgiveable trial and execution of Joan of Arc. An option for the day was to stay in Rouen and take a complimentary tour of the city.
But Paris is always Paris and who could resist an opportunity to stroll the boulevards on a warm, sunny day?
So it came  down to a choice: Do a bus excursion organized by the ship or go completely on our own by train.
I'd looked into the do-it-yourself option. In Rouen if you want to take the train, it's generally relatively straightforward to take a 10-minute taxi ride to Rive Droite station and the hour and a half train ride to Paris.
The SNCF French rail system website includes  dozens of  exceptions for different days of the week, holidays and diversions for track repair. If your ship comes in to Le Havre, several of the trains between Paris and Le Havre require a layover in Rouen to change trains. To get to and from train stations also assumes there are enough cabs willing to take you to the pier.
As it turned out, from Rouen the only two trains that make sense for cruise passengers are the 8:55 train that arrives at 10:20 at Gare St.-Lazare or one that leaves at shortly after 10 and arrives at 11:40. The fare is about $24 U.S. each way or $35 each way in first class, depending on the exchange rate from Euros.
That's reasonable. However, the issue is always whether your train is actually running on time or whether the train staff might be "en grève," on  strike, which is an all too real possibility.
Looking at the SNCF web site in mid-June, this message appeared:
"Due to a nationwide strike, some trains may be cancelled and others may run on a modified timetable. The timetables shown here do not yet reflect the impact of the strike. Updated timetables incorporating service disruptions will be available at the end of the day."
Ongoing union protests also led to a prolonged rail strike in 2014 and a work action in March, 2015. Taxi driver protests are making travel even trickier.
I decided that with limited time and the possibilities of delays, it would be better to go with the ship's bus shore excursion.
An important consideration on any day excursion from a ship is that if you plan something on your own, you are truly on your own. If there's a snag, the ship could sail without you. If you join the excursions arranged by the ship, you're guaranteed you'll get back to the ship before sail away.
The Paris day trip bus directly from and to Viking Star was a $129 shore excursion. While the price was significantly higher than round trip train and taxi fares, it provided welcome peace of mind and it came with a good guide and a tour around the city. There was also the option to get dropped off at one of several different points in the city, as long as we all agreed to meet at an assembly point near the Place de la Concorde at 4:30.
No matter how you go, Paris is still about 90 minutes from Rouen and more than two hours from Le Havre. The trip can take significantly longer on weekdays when traffic can get gridlocked. Fortunately, we were arriving on a Sunday, when it was actually easy to drive the length of the Champs Élysées and take a spin around the Arc de Triomphe.
Even with our tour of city highlights, we still had five hours free time to wander and unless you happen to want to walk the entire length of the city in one day that's a significant amount of time to explore.
And what a day it turned out to be. My wife and I decided to revisit a stay we'd made in Paris in our wayward youth, wandering the streets of the third and fourth arrondissements on the Right Bank checking out the cafes and admiring the galleries and boutiques. The ancient zones have become considerably gentrified in recent years, but still retain their arty charm.
The Marais is crammed with history and architecture and home to fabulous art galleries and the Picasso Museum. The area's liveliest street is the Rue des Rosiers, a center of the Paris Jewish community, which has lineups for its restaurants and shops selling kosher food.
We also strolled around Les Halles, the historic market district where a  big redevelopment is reshaping the Forum des Halles, the vast underground mall that's one of France's busiest shopping centers.
The day's excursion was definitely worth it. Pictures tell it better than words: