X-Ray Specs, Virtual Dining Rooms? Royal Caribbean Lets You Sea Beyond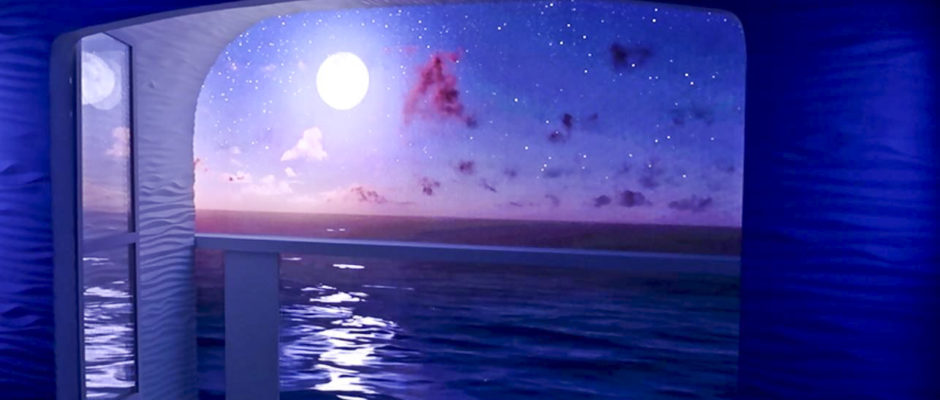 From your deck chair, tap a drink order on your cell phone and the waiter delivering it will find you using facial recognition technology.
Put on VR goggles and enjoy nibbles delivered to you in bubbles floating across a virtual Zen garden.
Or open the video ceiling of an inside stateroom to the stars and have waves lapping at the virtual balcony as a computer assistant opens the curtains and says good morning to you.
At a tech-filled invitation-only show called Sea Beyond  for investors and a very select group of cruise journalists in Brooklyn, Royal Caribbean Cruises Ltd. showcased a host of inventive and entertaining ways that they're experimenting with to use technology to enhance the cruise experience and make the most of your time onboard.
Here's a look at tech experiences destined to be part of  your coming cruises:
The future is already here
"The pace of change is relentless—and so are we," said Richard Fain, RCL's chairman and CEO at the sneak peek of what Royal Caribbean's research teams have been concocting. "We are harnessing a range of technologies to enhance every facet of our business, every minute of our guests' vacations, and every inch of the ships we build." (Within the company, the process is nicknamed Excalibur!) 
Some may still be far-fetched, but several of the innovations designed by RCL's research teams are already being installed on the 48 ships of the company's brands, including Royal Caribbean Cruise Line, Azamara Club Cruises and Celebrity Cruises.
Your smart phone is the key
Your personal cell phone will become everything from your room key to your personal cruise assistant. The company is combining technologies ranging from facial recognition to RFID tagging to GPS mapping to Bluetooth-enabled beacons to streamline boarding, and attend to your needs on your cruise.
Once you've registered and taken a selfie, all you'll need to do is tap to make a restaurant reservation or order a drink on board. An app will tell you where you are, what's on the menus and what activities are happening anywhere in the ship. No need to sign, it's all on your virtual tab.
You could even start planning  the cruise at home with online brochures that preview shore excursions using virtual reality:
The tech for guests will be mirrored on the crew side by mobile applications that help crew members check-in guests, track delivery of guests'  bags to their staterooms, and interact with guests and anticipate their needs throughout their vacations. The aim is to have the apps enabled on about 30 per cent of the fleet by the end of 2018.
Would you like virtual fries with that?
In a mock-up of the Izumi Japanese restaurant on Royal Caribbean's Symphony of the Seas, coming in the spring of 2018, guests were seated at tables and virtual reality headsets placed on our heads.
The effect of being in a magical land with foods arriving in glowing bubbles was stunning. But the current head gear is still way too bulky to be practical and frankly the look and taste of real food is what I crave in a meal.
With more streamlined goggles, it might make for a fascinating experience to top off a meal with a fairy tale dessert in a fantasy landscape. I'll be intrigued  to see what it evolves into.
Sailing on a cushion of air and saving energy
Making ships as eco-friendly and fuel efficient as possible is a prime focus of Royal Caribbean's tech research. It's pioneering the use of an "air lubrication" system that blows millions of microscopic bubbles beneath the hulls of ships to reduce resistance and drag. In initial tests, the bubble lubrication has reduced fuel consumption at speed by seven to eight per cent.
Complementing RCL's energy conservation efforts are initiatives to use alternative energy sources. At Sea Beyond,  the company previewed hydrogen fuel cells for power generation whose only emissions are water vapor.
What was that about X-ray vision?
Talk about seeing beyond: how about looking through walls? For those of you disappointed in the childhood dream of x-ray specs to see like Superman, they've got an app that simulates the experience. Sure, there's a lot of tech hocus pocus behind it, but any cell phone can make it happen:
And the room with its own virtual sky?
Some Royal Caribbean inside staterooms already do have a video wall that displays views taken by cameras outside the ship. But techies have vivid imaginations and for those who really want more, they've dreamed up an inside stateroom full of screens that can make it seem to be a balcony cabin with a simulated view of any time of day or night.
It could even feature a channel in the floor that you can turn on to simulate waves beneath your feet. Fancy a thunderstorm, or a jungle filled with monkeys on the shore? You can dial them up as well.
A virtual assistant can also be summoned on command to turn on the effects and open or close the curtains on cue. It's still in the concept stage and it remains to be seen if it will make it onto ships in the near future. Judge for yourself: