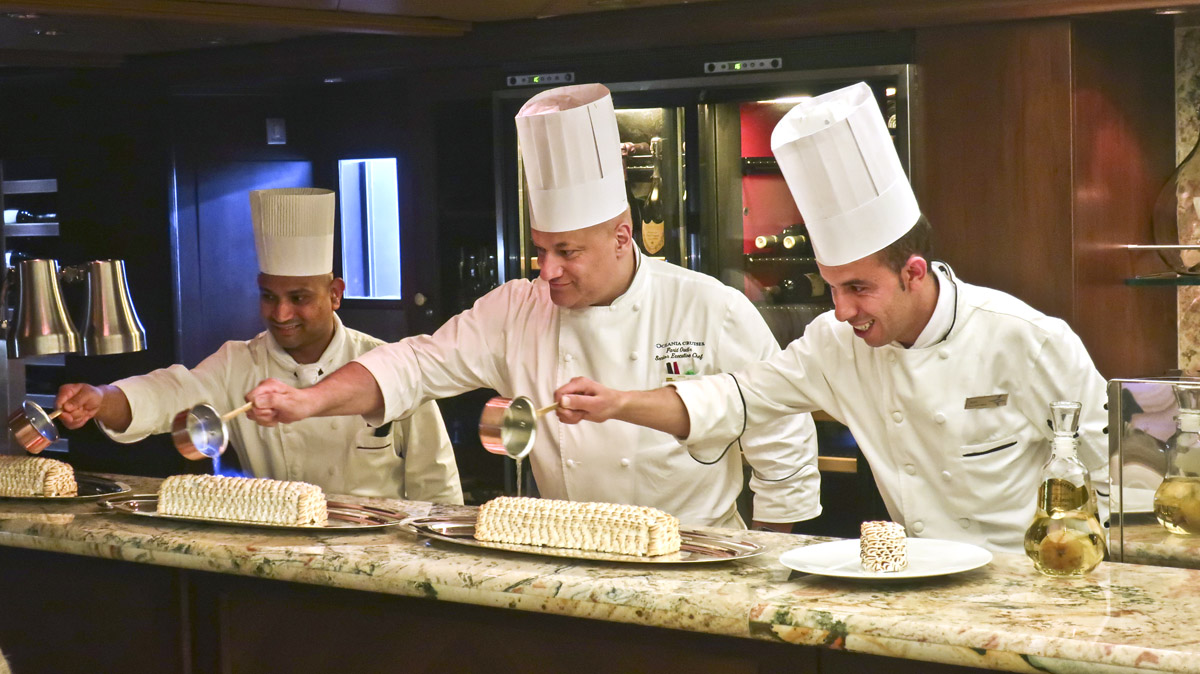 Caution: Do not attempt this at home.
Tucking into three square meals a day on Oceania Cruises' Riviera could make your bathroom scale rebel. There's ample temptation on a ship whose cuisine is so seductive that even if you intend to only sample, you end up eating the whole thing.
So plan a detox program when you get home, but don't miss the daily delights while you're on board. Oceania has even been awarded a trademark for the slogan Enjoy the finest cuisine at sea. And on a Caribbean cruise aboard flagship Riviera we discovered that's more than just a boast. Here are samples to whet your appetite: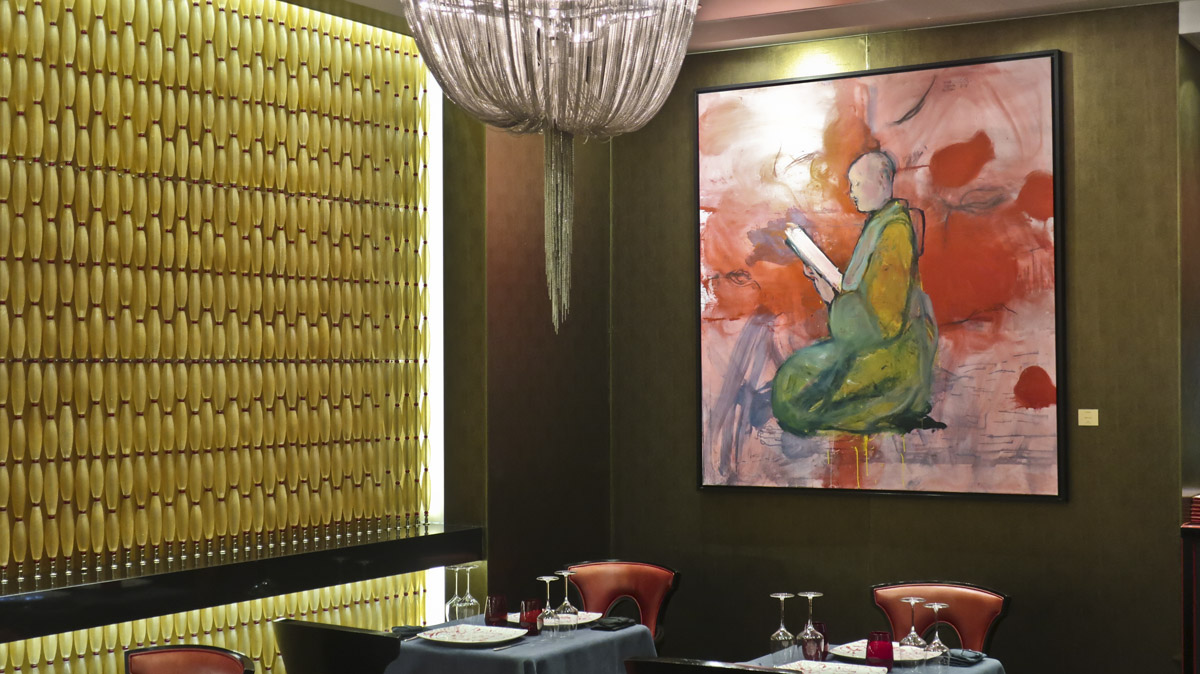 1) Red Ginger for a tour of Asia
Red Ginger has the ambience and impeccable you'd find in the best restaurants in Asia. Along with the menu, you're even offered a choice of designer chopsticks in a range of styles and colors to match your outfit.
Not to be missed as an appetizer is the spicy roast duck and watermelon salad with cashews, mint and Thai basil. Main courses include Indian, Japanese, and Malaysian, Vietnamese and Thai dishes that are authentic because they're prepared by chefs from these countries. You can watch them at work in the kitchen through a picture window in the corner.
The lobster pad Thai is a most-requested specialty, along with the green curry chicken. A personal favorite though, is their miso-glazed sea bass served on a Japanese hoba magnolia leaf. Vegetarian options include beautifully spiced Thai vegetable curry with sweet potatoes, aubergine, mushrooms and basil in green curry sauce.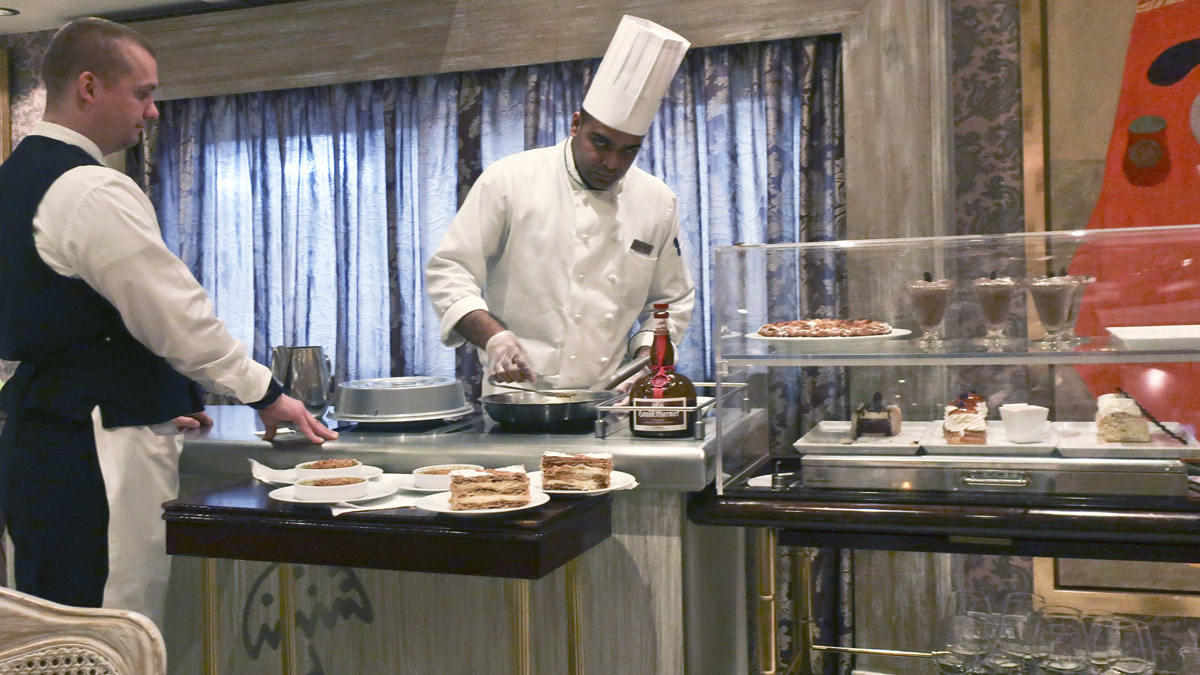 2) Jacques, home cooking gone gourmet
The guiding spirit behind the cuisine on Oceania Cruises is famed French chef Jacques Pepin. (A little play on words here: Pepin is slang for umbrella in France, so his logo is an open parapluie.) The menu is based on the rustic French cooking Pepin experienced in his childhood outside Lyon, but the ingredients and combinations he's come up with for Oceania are far more gourmet than you'll find in the typical bouchon.
I highly recommend the warm fois gras to begin, then Jacques' interpretations of Bouillabaisse or duck Parmentier with orange or Dover sole. Top it off with classic crêpes Suzette or –a personal favorite– the pistachio crème brûlée.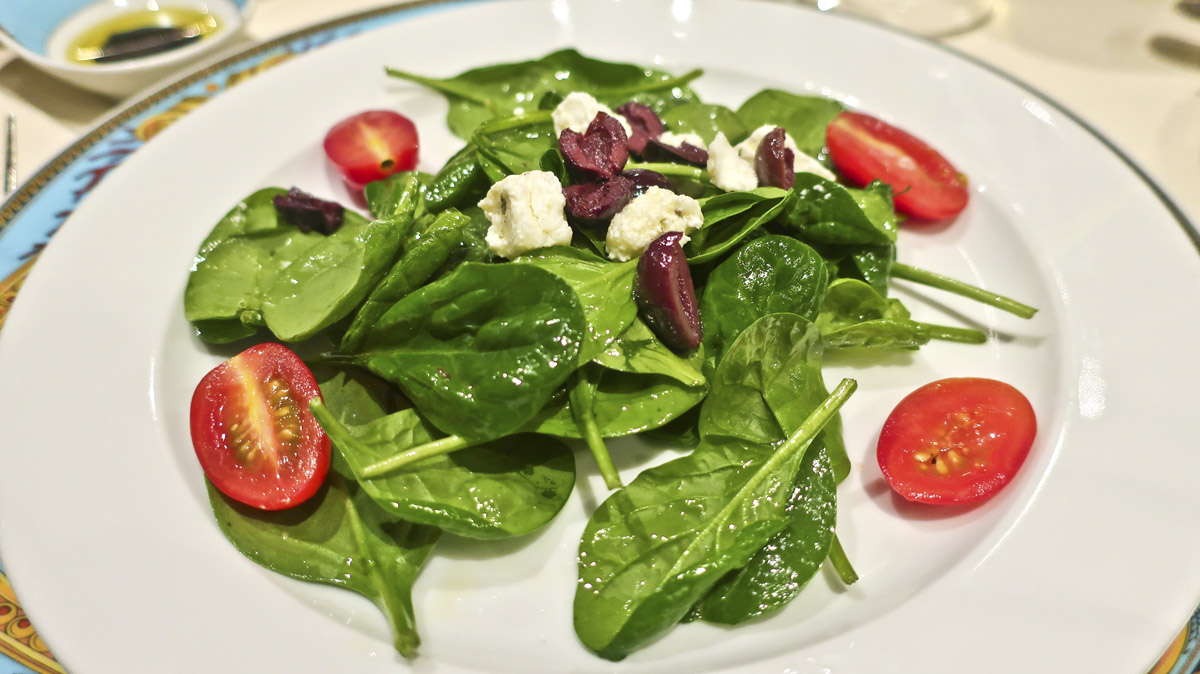 3) Toscana for the tastes of northern Italy
They've even got the color scheme and the accent of the maitre'd right in this Tuscan inspired restaurant. Menus are presented on beautiful custom-designed Versace china, and a waiter rolls a massive trolley filled with choices of olive oils and balsamic vinegars to enjoy along with a basket of fresh baked Italian specialty breads.
By all means start with a crisp salad, artistically arrayed on its plate. Classic dishes from regions of Northern Italy are featured and include risottos and hand-made pasta options, with the classic being lasagne al forno alla Bolognese. Meat specialties include veal scaloppini in a choice of styles and osso buco alla Milanese.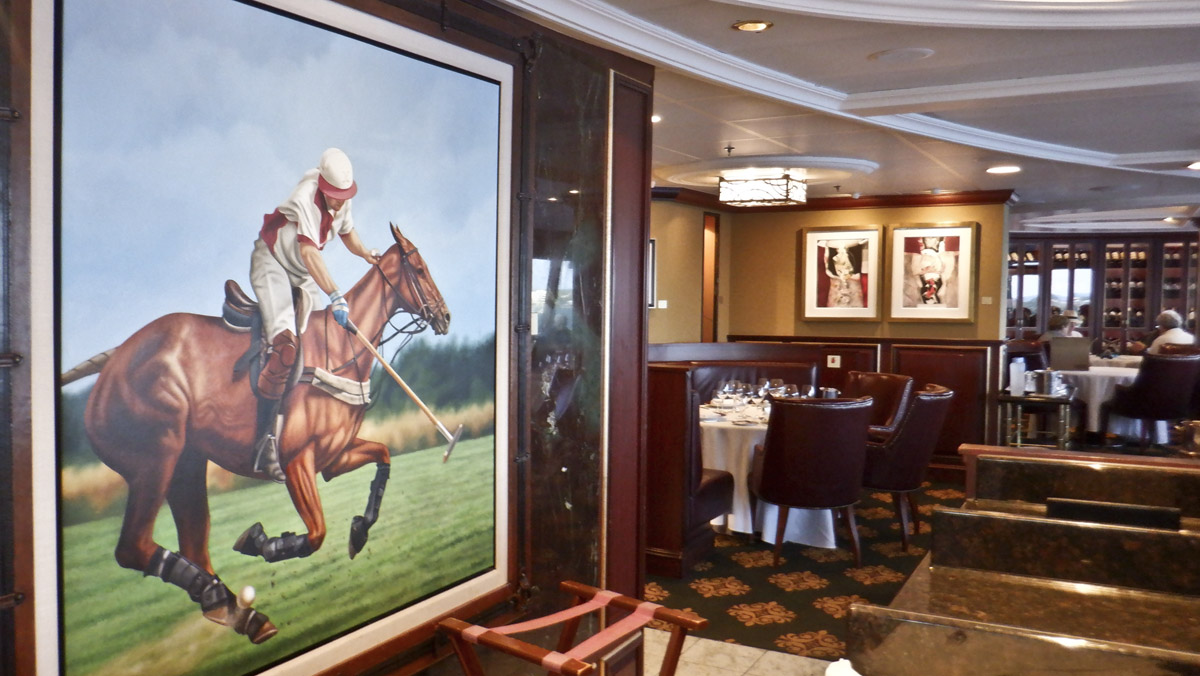 4) Polo Grill is the quintessential steak house
Polo's got the look and feel of a classic steak house, right down to the leather armchairs and horsey-set art on the wood-panelled walls. There's even a tongue-in cheek array of front and rear close-up photos of racing steeds.
You'll recognize the menu options, from jumbo shrimp to Oysters Rockefeller, escargot, or lobster bisque, but they're all inspired takes on the classics.  The veggie revolution hasn't yet invaded this menu, but entrée salads can be made without meat.
There's an abundance beef on the main course choices—including a King's Cut prime rib that weighs in at a daunting 32 ounces. For fun, try the trio of sliders with Parmesan fries or the pancetta-wrapped filet with Bay Lobster tail. If you've still got room, the Fine Endings dessert menu includes a seven-layer chocolate fudge cake and an irresistible New York cheesecake.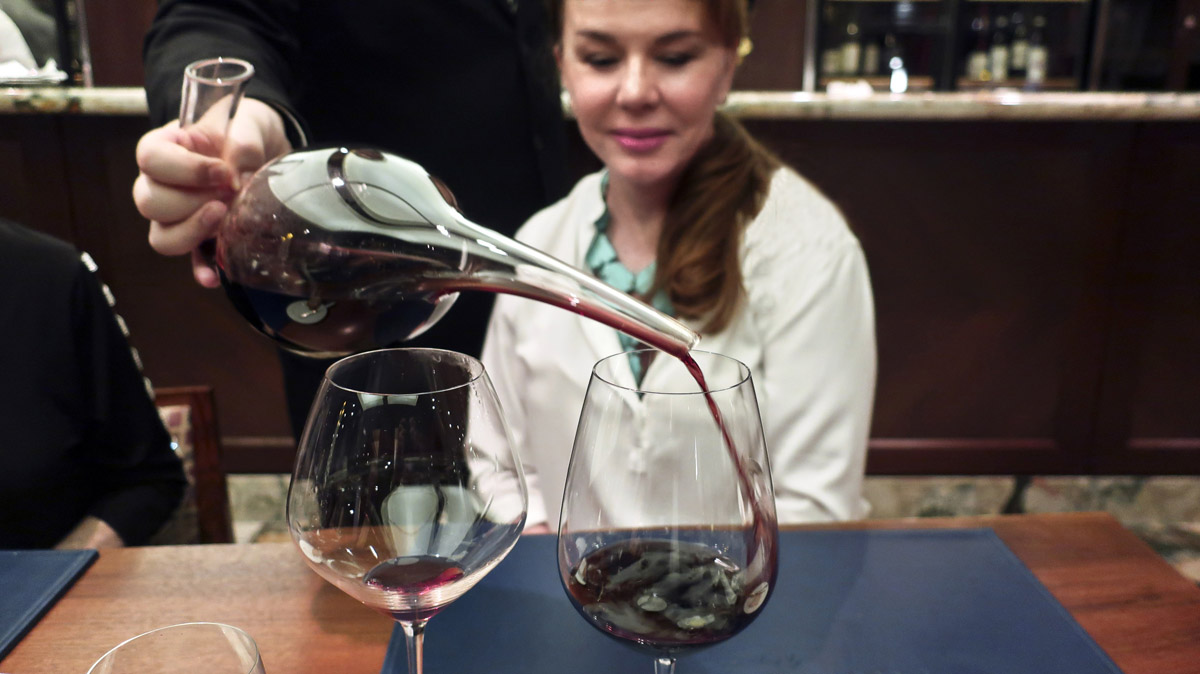 5) La Reserve for elegant wine pairings
The most decadent restaurant on the ship is also the most exclusive, at just 24 seats. You'll want to make reservations far in advance because it's extremely popular. The dinners come with a $95 a guest surcharge, but that's a deal because the premium wines paired with each course are selected by experts from Wine Spectator magazine and they would easily come to the price of admission if served by the glass without the meal.
For instance, in the Cuisine Bourgeoise menu created by Jacques Pepin we enjoyed one evening, a filet de boeuf Richelieu was paired with a vintage Chateau Bouscaut grand-cru classe Bordeaux.
One evening at La Reserve on each cruise is even more over the top. It's a six-course tasting menu, where each course is accompanied by a different vintage or style of exquisite Dom Perignon Champagne, including a 2009, a 2006 and a 2004 rosé. The evening is extraordinary, and with such lofty wines it's priced accordingly, at $295 per person plus gratuities.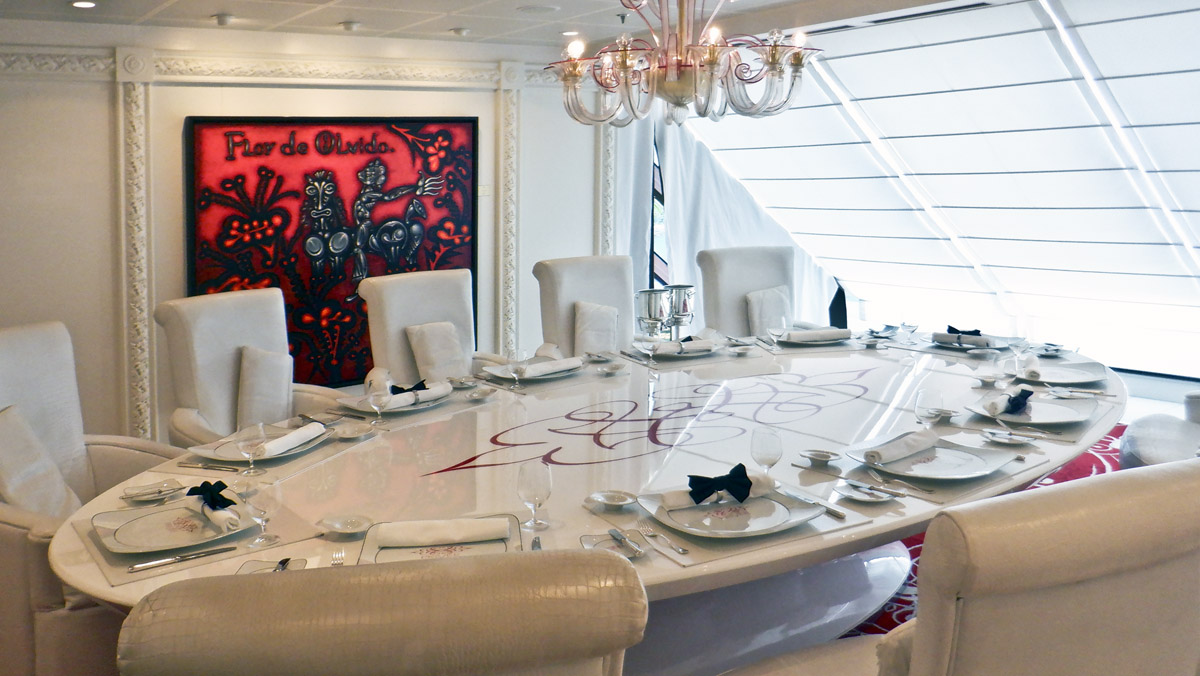 6) Privée for an exclusive evening
Actually, there's another extra-cost option. Privée is a gorgeous private room lit by a Venetian glass chandelier with a table big enough for 10, for those who would like an intimate dinner with a few friends. An exclusive on Riviera and sister ship Marina, it features a six-course tasting menu served by butlers in tailcoats. The surcharge for the room is $250, which can be divided among the guests.
7) Grand Dining Room offers an ever changing menu
There's a different menu with a wide range of options every evening in the main dining room and there always seem to be tables for from two to six available at any time because so many diners are at alternative restaurants. It's a big room, but it's broken up into many different tiers and corner nooks so it doesn't feel as large as it is.
A recent renovation has made the décor lighter, so if there's one suggestion for improvement I'd make it's that the brightness of the enormous central crystal chandelier could be dimmed down a notch.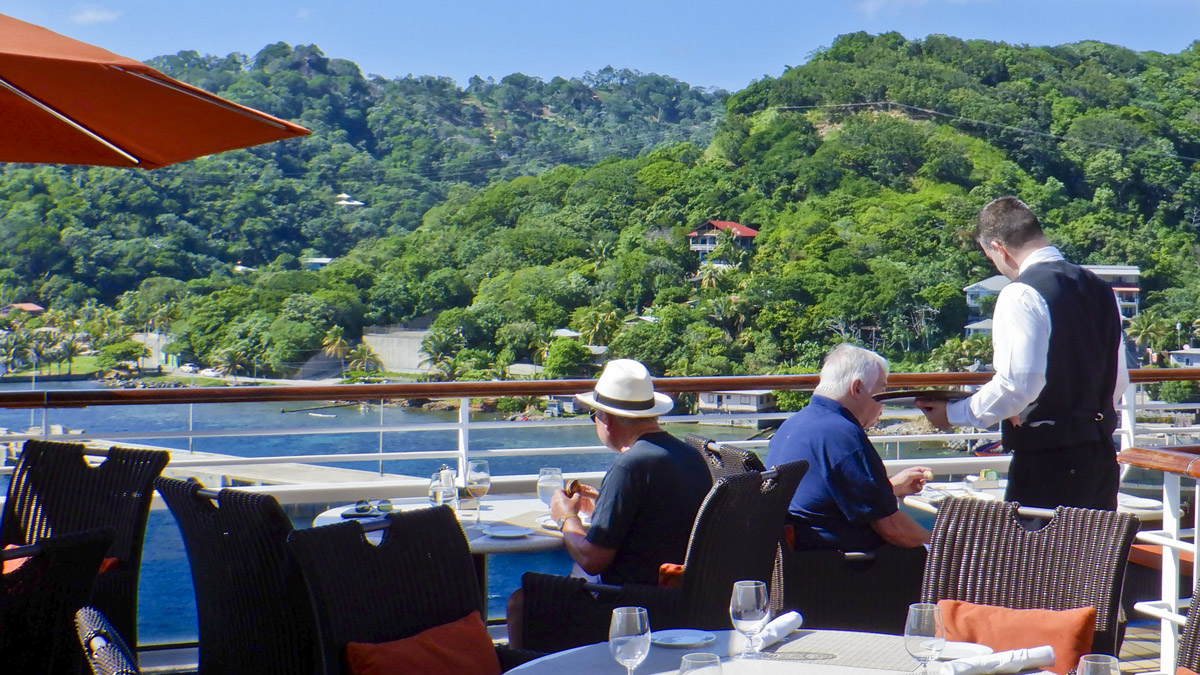 8) Terrace Café is the room with the views
The informal and fun option at dinner is the Terrace Café, which also serves breakfast and lunch. The buffet spans a wide range of cuisines, as well as a grill, a rotisserie and pizza station. You can dine inside at a table with a view or on a rear alfresco terrace.
Buffets are served by crew behind the counters rather than being self-serve, which is a good thing because there's less inducement to just mound up a plate. Of course, you can always ask for more or come back for seconds. But ultimately, you are the arbiter of portion size and that can be an inducement not to over indulge.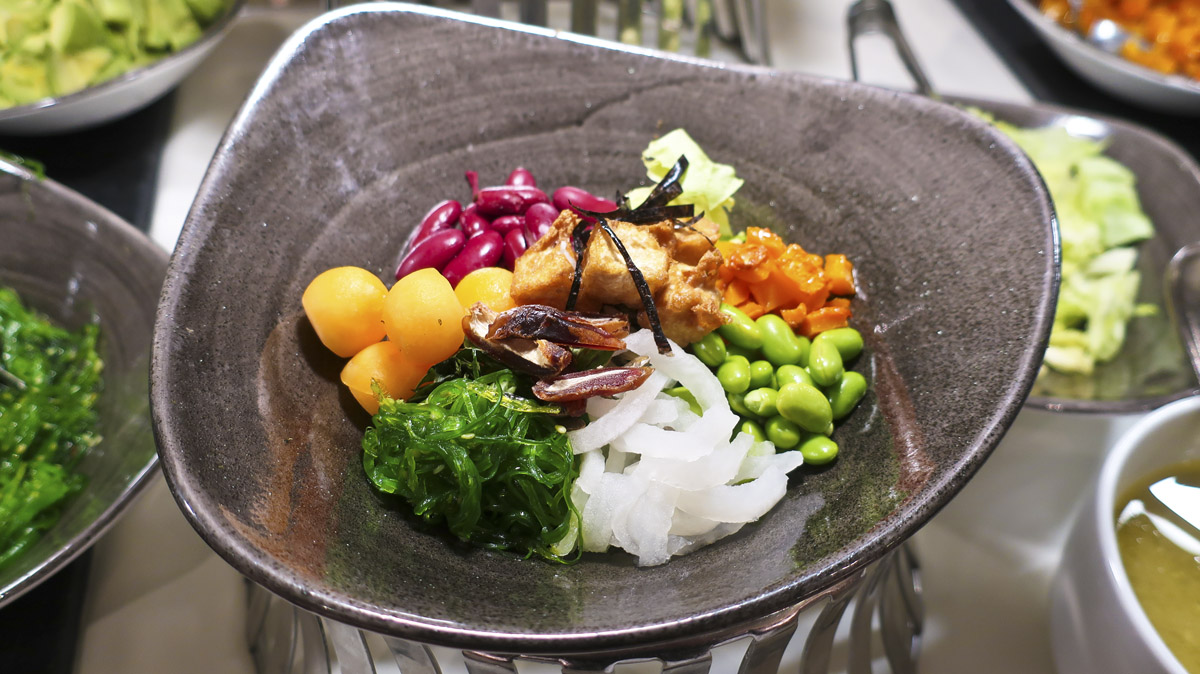 Bonus:  Plant based choices are everywhere
Oceania Cruises prides itself on having introduced over 200 plant-based menu options in its cuisine. Vegetable Poke bowls are a daily offering. The name comes from the Hawaiian language meaning sliced up and originally referred to dishes including chunks of fish, but now it means anything you want in a bowl. And here the options can be strictly vegan, including avocado, beans, sliced vegetables and perhaps some seaweed and tofu over rice. If you aren't strictly veggie-based, you can have them add meat or grilled fish to suit.
Even though it's not officially on the Grill menu yet, I also particularly enjoyed the taste and texture of the Impossible burger. It can be topped with a vegan cheese made from soy protein and nut milks that has the look and flavor of standard processed cheese. To keep them legit, they're fried in a separate pan from the meat grill.
There's a different dining choice for every day of a week on board, and to top it off you can order from room service 24 hours a day.
So, resistance is futile. Enjoy.