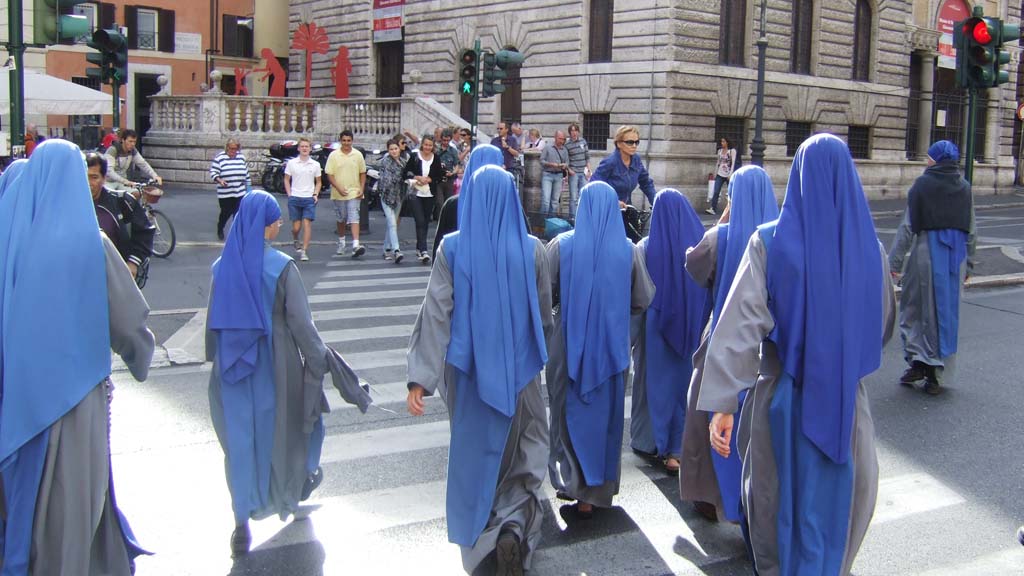 Salve!
It translates literally as "hail," and dates back to the days when they were wearing togas in the Forum. It's still a standard morning greeting of Romans when they're talking among themselves.
You hear it when you get out of the main tourist zones and spend a day doing as the Romans.
We had plenty of options for Crystal Serenity's day in Civitavecchia, the port for Rome. An exclusive after-hours tour of the Vatican and Sistine Chapel was tempting, as was a cooking class in an ancient farm house or a classy ride in a Ferrari through Umbria.
Exciting as those opportunities sounded, I chose an "on your own" day with a bus transfer from the pier to the heart of Rome. Having already done the big five: the Vatican, the Roman Forum, the Coliseum, the Spanish Steps and the Trevi Fountain, I looked forward to getting away from the crowds and strolling down quiet, ancient cobblestoned streets and window shopping with the locals. It gives me a feeling of what it might be like to live here — to eat wonderful food, update my wardrobe and learn how to use my hands to punctuate everything I say.
Here are a few of my favorite things:
Start with a coffee — The day begins with a drop off at the edge of the Tiber River, a block's walk from Piazza Navona, which is a location within easy walking distance of most of the city's famed sights. That's an advantage of a smaller ship like  Crystal Cruises' Crystal Serenity. Bigger ships have dozens of buses to unload and can't stop on the busy east bank of the Tiber, so their tour groups start from the cavernous garage beneath the Vatican, quite a hike away on the other side of the river.
Coffees at a table in an outdoor cafe on Piazza Navona can set you back 5 Euros each and you'll only be seeing other tourists. I prefer to wander off on one of the side streets to a stand-up bar where you blend in with the local inhabitants who can get what for my money is the world's best cappuccino for about a Euro. (Remember that if you sit down there can be and additional service and cover charge). As a patron, you also get to use their restrooms.
One of my favorite streets for coffee and rambling is:
Via die Coronari. The "Crown makers street" gets its name from the craftsmen whose shops lined the narrow, cobbled street in the 16th century. Today, it's a fabulous district of antiques shops and boutiques of young designers who aspire to one day have their store on the fashionable Via Condotti near the Spanish Steps. You'll see colors and styles here that are a season or even an eon ahead of what you'll find in stores at home.
Even the graffitti on the stucco walls of Via dei Coronari seem more artistic than anywhere else. You'll also find elaborately painted altars on the second storeys of buildings that are dedicated to the Virgin Mary or local patron saint St. Filippo Neri.
 Campo de' Fiori, west of Piazza Navona is true to its name one of the best flower markets in Europe. Every day but Sunday it's also the city's best farm market, with stalls piled high with the freshest fruits and vegetables you're ever likely to see. It's been setting up on this square for 140 years and for centuries before that it was on Piazza Navona since the 1400s.
The Pantheon It's busy and overwhelmingly crowded but I never miss an opportunity to take a few minutes to marvel at this circular, domed building whose marble walls don't even show a crack almost 2,000 years after it was built. Its dome is still one of the largest in the world and heavenly is the best way to describe the way the light filters through the round opening in the centre.
I find a quiet spot along a wall under one of the altars and imagine the scenes that were played out on this site. The area was known as Campus Martius and was a gathering place for the Roman Legions and  the Pantheon became a place of reflection and contemplation before battles.
 Piazza del Popolo. I avoid the Spanish Steps, which seem to be a magnet for every backpacker in Europe and are always phenomenally busy and have been worn dangerously sloped by millions of people climing up and down the stairs.
Instead, I head up the Via del Babuino to the dramatic oval Piazza del Popolo, to  the west of the Borghese Gardens. In the center is an obelisk brought to Rome from Egypt by Augustus Caesar. The twin churches Santa Maria in Montesanto and Santa Maria dei Miracoli here are newly restored and beautifully decorated and often have art exhibits inside, if you're lucky enough to be here at a time when they're open.
On a day visit, I enjoy making this the lunch break, looking for an interesting table with a view on the sidewalk for people watching. On the major squares the prices can get astronomical but on the lesser streets in the area you can find an outdoor table where about 20 Euros will buy you a freshly hand made and artistically topped pizza, a great risotto or pasta along with a carafe of good local house wine.
One place I do like to stop on the piazza for an ice cream and people watching is under an umbrella of the sidewalk Cafe Rosati. It will make you feel like a movie star in La Dolce Vita. While the location is famous, it isn't anywhere near as touristy and pricey as you might imagine.
From here it's time to start heading back toward Piazza Navona. You can go along the bustling Via del Corso for some serious window shopping but I prefer the route along the edge of the Tiber, the Lungotevere.
Piazza Navona. Back where we started, there's time left over to wander around the piazza, which was originally an ancient Roman stadium where chariot races were held. Today it's a good place to watch artists painting scenes of the city and throw a coin into the famous Fountain of the Four Rivers designed by Renaissance sculptor Gian Lorenzo Bernini to ensure you'll return.
All travel roads eventually lead back to Rome.