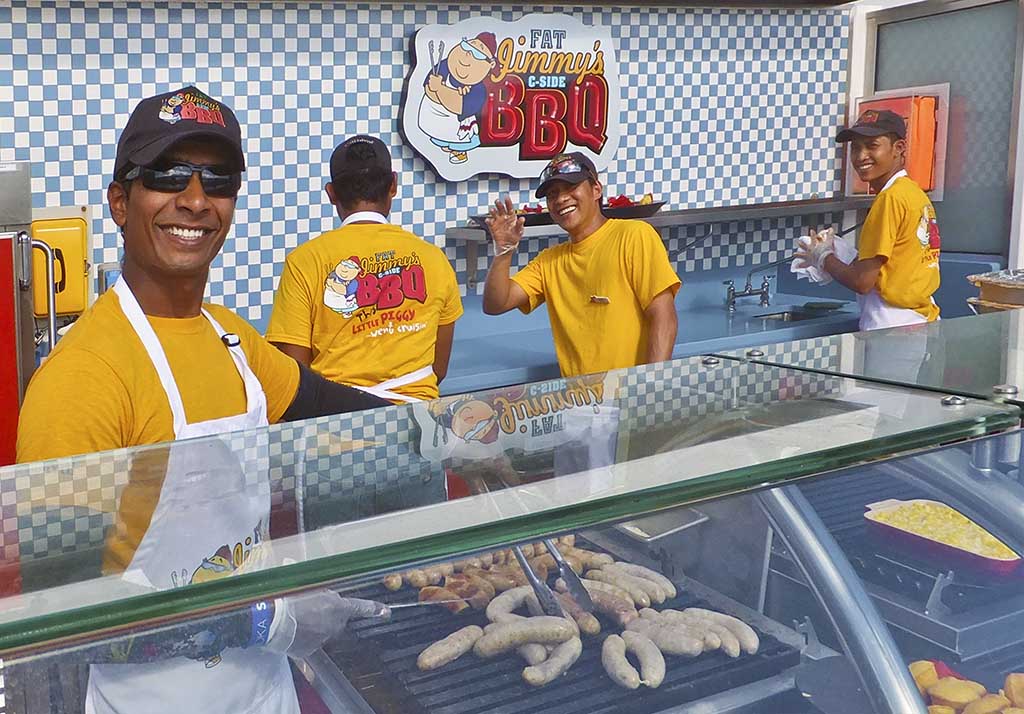 Carnival keeps coming up with to eliminate one of the traditional problems of sea days, the crowds around the breakfast and lunch buffets, when all 3,600 passengers are on board and thinking of eating at the same time.
The solution on the Breeze is to put a wide selection of different food attractions on different decks all around the ship, so there are seldom crowds. In the process, they've created a wider variety in the kinds of food available.
With three days at sea on our itinerary from Miami, with stops in Nassau, St. Thomas, the British Virgin Islands and Antigua, they'll be coming in handy.
I don't recommend doing the next new restaurant Fat Jimmy's BBQ on the same day you've stuffed yourself at breakfast There's way too much to eat.  It's located on promenade deck 5 and it's one you have to seek out to find, but a lot of people follow the scent of smoke and "comfort food" as soon as it opens at noon. The lines disappear after 1 and the BBQ is open until 2:30.
There's chicken, sausage and pulled pork from the grill as well as "Granny's fried veggies" and cornbread muffins with real kernels of corn in them. It's all yummy but don't expect to lose weight eating at Fat Jimmy's.
Another restaurant new on Carnival Breeze is Bonsai Sushi, which is an evolution of sushi stations found on other Carnival ships into a full scale Japanese restaurant with a wider ranging menu. It's busy most of the day and there would be a steady line of passengers waiting if it weren't for the extra charge for the fresh sushi. I'll be giving this restaurant a value test in a coming review of the extra charge restaurants on Carnival Breeze.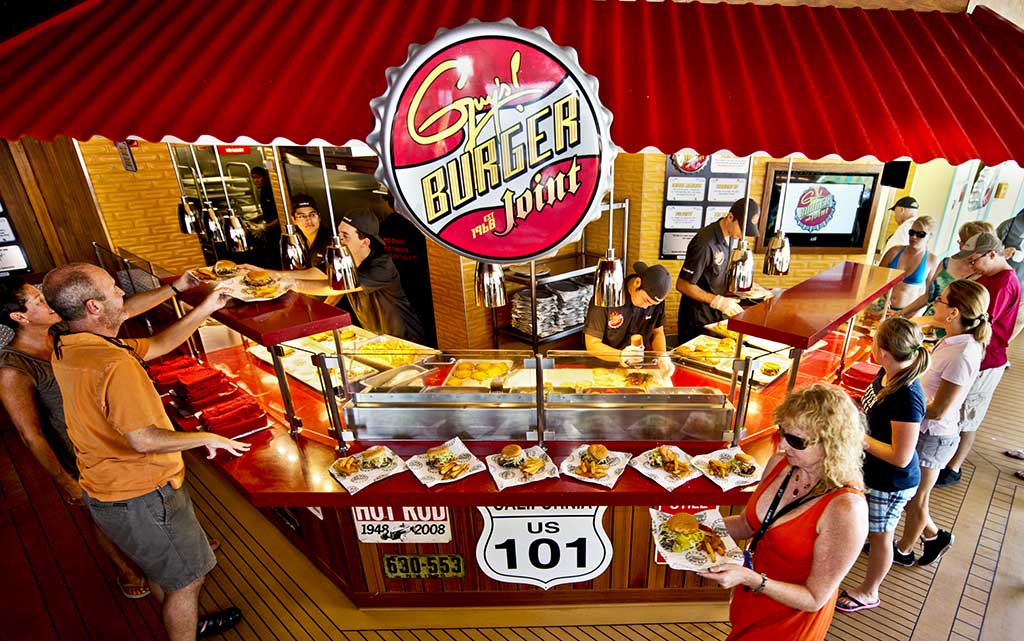 All day long there's Guy's Burger Joint, that turns out a righteous hamburger on a bun with your choice of accompaniments. The Guy in the name is Guy Fieri, host of the gut-busting Food Network show that tours the United States looking for boundary pushing excess in food. I love his version of burgers and fries a little too much–which is why I give the burger counter with its decor of highway signs and sassy sayings a wide berth when I walk around the pool deck. A lot of my fellow passengers obviously don't though, because I'm told the joint serves up over 1,200 burgers a day.
On the same pool deck as Guy's there's the Blue Iguana Cantina, that makes burritos to order and lets you top them with a huge selection of salsas. I found this version of the Blue Iguana was busier than the original I'd tried on Carnival Liberty earlier this year. A large part of that seems to be word of mouth from passengers who tell their friends about it.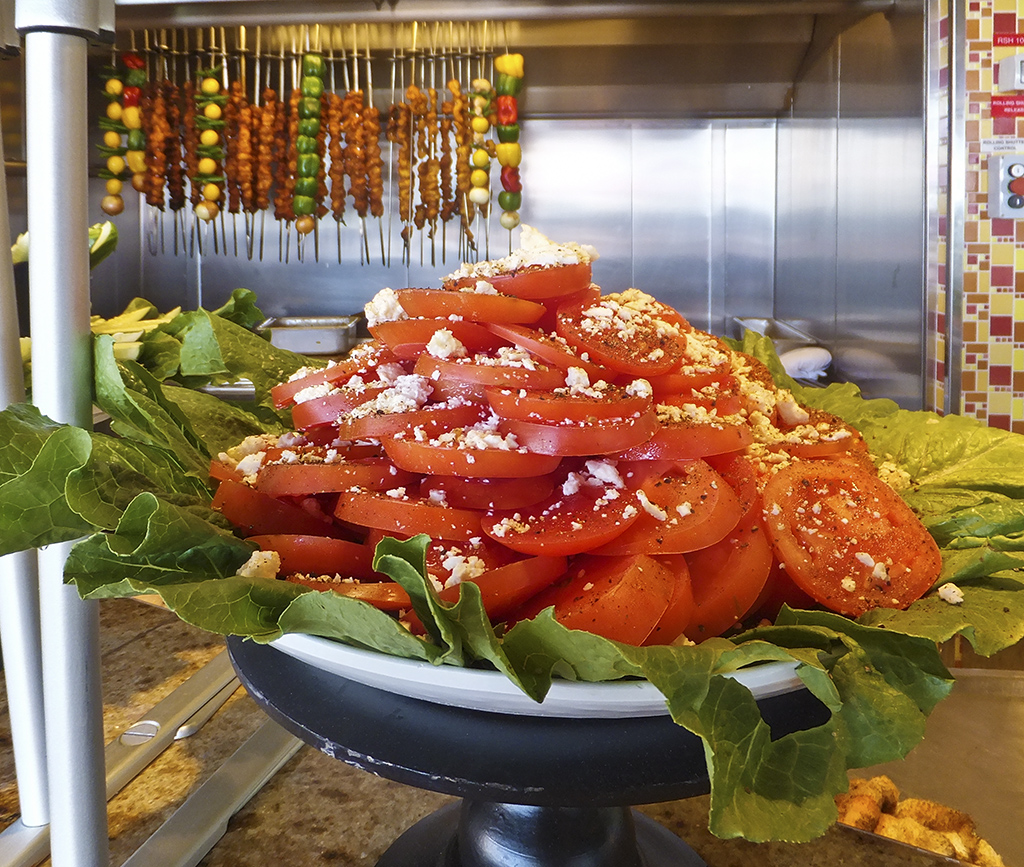 A lesser-known lunch place that I find exceptionally good is the Tandoor Indian restaurant on the rear pool deck. Huge skewers of chicken and fish go into the brick lined oven and come out baked with a crust of rich Indian spices. One chef's full time occupation is slapping bread dough on the sides of another oven to create fresh naan breads that are outstanding. There are vegetarian choices and salads along with savory rices. It's a favorite of crew members as well.
And if you still haven't had enough, there's the Pizza Pirate—also on the rear lido deck–which serves up fresh baked pizzas 24 hours a day. I'll have to try that and a bunch of other food options later in the cruise; I've already had way too much food for one day, thanks.